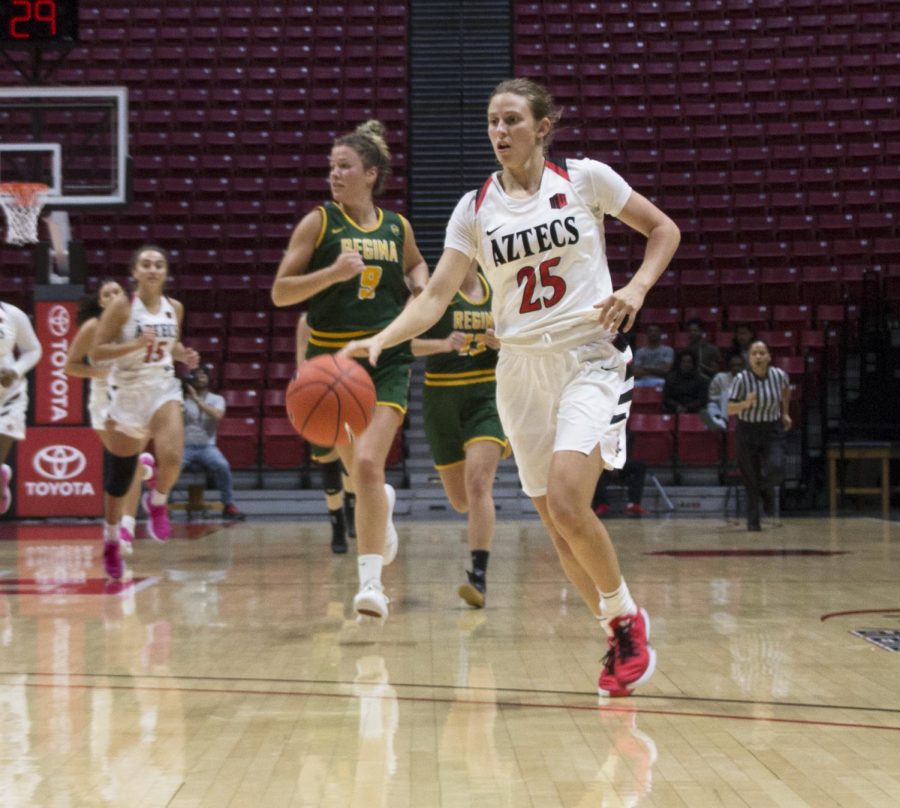 Miles Motley
San Diego State women's basketball defeated UNLV 48-39 on Jan. 25 at Viejas Arena.
The Aztecs (9-13, 4-6 Mountain West Conference) snapped a four-game losing streak against the Rebels (10-10, 6-3 MWC) who were fourth in the conference standings heading into Saturday.
Here are three observations from the game.
Sound defensive effort from the Aztecs
From the opening tip, the Aztecs' defense created problems.
The Rebels made three of 15 attempts and turned the ball over five times in the first quarter alone.
That trend would continue. 
By halftime, the Rebels had 12 points on 5-of-30 shooting. UNLV was held to single digits in the first two quarters.
The Rebels' 12 points are the fewest for an opponent against the Aztecs in a half this season.
UNLV had a grand total of 17 turnovers, shot 24% (15-62) from the floor and scored a season-low 39 points.
Aztecs head coach Stacie Terry-Hutson said she was happy with her team's grit on the floor.
"I was really proud of our effort on the defensive end," Terry-Hutson said. "We just beat a really good team that was in the top of the conference, and I thought we really tried to take away at what they are good at."
The Aztecs also protected the rim by swatting away easy opportunities near the glass.
SDSU had six blocks against the Rebels, and three of them came from senior center Zayn Dornstauder.
SDSU ranks third in the conference in blocked shots.
Freshman guard/forward Isabela Hernandez said the Aztecs must maintain the defensive intensity moving forward.
"We just need to keep that same energy for the rest of the season," Hernandez said. "We have to take this momentum and use it."
Injury strikes before halftime
Less than two minutes into the second quarter, senior forward Baylee Vanderdoes fell down awkwardly holding her right leg.
Dornstauder replaced Vanderdoes as she had to be carried off the floor.
The 6-foot-1 forward from Auburn, California would not end up returning to the game.
Terry-Hutson said after the game Vanderdoes' status moving forward is questionable. She is expected to have some X-rays this week.
The Aztecs are already dealing with the injury bug. Sophomore forward Mallory Adams suffered a knee injury that ended her season.
However, Terry-Hutson said injuries created opportunities for other players to step up.
While Vanderdoes' return is unknown, players such as juniors Kiara Edwards and Naomi Ekwedike will have to fill in.
"We talk a lot about staying ready for your opportunity," Terry-Hutson said. "Now Kiara and Naomi are going to have some more opportunities to step in and get more minutes. I'm anxious to see if they'll stay ready and step up to the challenge."
Ball movement led by Sophia Ramos' career-high nine assists
The Aztecs were consistent distributing the ball and finding the open player.
As a team, the Scarlet and Black accumulated 13 assists compared to the Rebels' five.
Nine of SDSU's assists came from sophomore guard Sophia Ramos, setting a new career-high.
"It's great to see that number be high because it shows that the people who are putting in the work are getting a result out of it," Ramos said. "Whether I get nine assists or none, everyone is shooting, everyone is scoring. It helps build confidence for everyone."
Next for the Aztecs
SDSU will host New Mexico on Wednesday at Viejas Arena. 
Cristian Alvarez is a senior studying interdisciplinary studies. Follow him at @AlvarezTheViper.