San Diego is no stranger to the coffee scene. In the midst of midterm season, the city has a plethora of coffee shops to offer students who need a place to catch up on their piled-up assignments or a space to relax. Sure, it's easy to get a coffee at one of San Diego State's many Starbucks locations, but even that can get old.
Women-owned businesses are becoming more influential, which is opening new and exciting opportunities to support the next generation of female entrepreneurs.
In honor of International Women's Month, it's time to recognize a few women-owned coffee shops close to campus that offer everything including coffee, tea, croissants and laptop outlets.
Chiefy Cafe
Having journeyed all around the streets of SDSU for semesters on end, it's shocking to have only recently discovered Chiefy Cafe. It's easy to miss if you don't know it is there. But, if you happen to find yourself on Paseo Place, look for a small sign hanging above the cafe with a silhouette of a little dog in a pink hat.
The woman-owned and pet-friendly coffee shop has unique and healthy options for any quick brunch item you might be craving. Their menu features everything from gluten-free and protein- packed waffles to vegan smoothie bowls. For a quick sip, signature drinks such as the "OMG Caramel" coffee and Viennese Latte seem to be popular choices.
Avery Koontz, a sophomore and journalism major, can't seem to stay away and has quickly become a regular at Chiefy Cafe.
"The neon pink signs, marble counters and sleek gray ceiling creates a cool atmosphere and there's a lot of seating to choose from, including outdoor seating that I imagine is packed when the sun is out." Koontz said. "I do go quite often. The dirty chai lattes and bagel sandwiches keep drawing me back in."
Even the most well-versed student might have missed this hidden spot. With Chiefy Cafe's impeccable on-campus location, it's worth the visit. Plus, you might even get to pet a dog.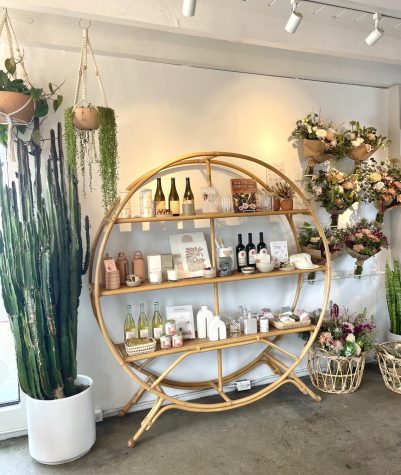 Communal Coffee
Communal Coffee is a spectacle for the eyes. With several locations throughout San Diego and the closest to SDSU being in North Park, the shop offers a full menu of delicious food and drinks, fresh flowers, locally made gifts, candles, stylish homeware and so much more.
Owner Jen Byard, uniquely and artistically designed each location to fit the aesthetic of the community. It's a breath of fresh air, and you'll never want to leave.
Open from 7 a.m. to 7 p.m., Communal is lively no matter what time of day you go, but the ambiance and extensive menu is worth the crowds. This creative minded cafe and shop has something for everyone, offering drinks for coffee and non-coffee lovers.
If you're a caffeine drinker, try one of their seasonal espresso creations, but if you're not a fan of coffee, there's a variety of sparkling lemonades and kefir sodas. Maybe you're too overwhelmed with the amount of options (a surprisingly common occurrence) don't worry, they also offer latte flights so you don't have to decide on just one.
Communal is the ideal blend of a boutique, restaurant and bar, flower shop and cafe all in one. You will want to bring a book to read or a laptop to get work done. After your coffee, don't be surprised when you are also tempted to buy a new necklace and pick up a fresh bouquet of flowers on your way out.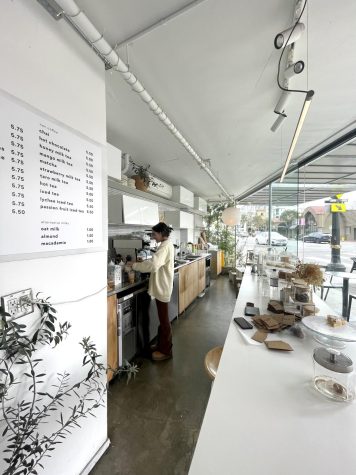 Oliver Coffea
Walking into Oliver Coffea is like walking into a little glass box that doubles as a chic coffee nook. Located right on the corner off University Ave in Hillcrest, this cafe is the place to go if you're looking to take a break and grab a drink or delicious pastry.
While Oliver Coffea is a smaller shop, the line is still out the door. Between regular customers, friends meeting up and baristas recognizing friendly faces, it's unmistakably clear that this cafe is a neighborhood favorite. The personal touch Oliver Coffea provides truly is unique.
Meadow Olivas, a barista at Oliver Coffea and a sophomore environmental science major at SDSU, loves working at this cafe because it feels so different from other coffee shops she has worked at before.
"As a small business it feels more rewarding to connect with customers and you feel a part of the community," Olivas said. "Coffee shops are a dime a dozen, but Oliver really stands out with the quality of the drinks and pastries. A majority of the pastries are homemade along with the syrups in the coffee."
Olivas noted that the owner is a great baker and takes a lot of pride in the quality of food and drink she offers. Oliver Coffea is effortlessly delicious and surprisingly personal; possibly even the definition of a hidden gem.