Controversial rapper Travis Scott made his triumphant return to the music world this summer with the release of his new album "Utopia." "Utopia" is Scott's fourth studio album, and its release ends a five-year drought since his last project, "Astroworld."
Some prominent features from "Utopia" include artists such as Teezo Touchdown and Rob 49. This album also showcases collaborations from mainstream figures like Kid Cudi, Drake and even Beyonce. Scott creatively teased his new music earlier this year by creating multiple billboards and handcuffing himself to a briefcase branded with a '"Utopia" inscription. The hints of a new album generated some buzz in the media and amongst fans. 
With the controversy of the Astroworld incident still looming, the pressure was intense for Scott amid rumors surrounding a new album. He announced that this album will break into an unexplored sound, which made fans both wary and excited. "Ragers" (Scott's fanbase) hoped that this upcoming project would "live up to the hype" of the five-year hiatus and all of the recent promotions Scott was doing, according to the eyes of Louis Pecceu, a third-year student at San Diego State University. 
The anticipation of "Utopia" met a climax on release day, which made both hardcore fans and music goers alike talk about the project. Lucie Rautenberg, a third-year psychology major at SDSU, weighed in about the release.
"While five years is quite a long time, I think it gave (Scott) a good amount of time to produce an album that truly reflects who he is as an artist," Rautenberg said. "Musicians evolve and (or) reinvent themselves with every new album they put out, and Travis Scott proved that with 'Utopia.'"
Fans appreciated the experimentation that Scott attempted by praising the album online, and attention turned to live performances. Scott put the anticipation straight by announcing the debut of "Utopia" live at Circus Maximus in Rome on Aug. 7. 
Morgan McFarland, a third-year mechanical engineering major at SDSU, expressed her feelings on Scott returning to live shows.
"It was very shocking that (the) venues invited (Scott) back to perform so quickly with what happened at Astroworld," McFarland said. "I was not the biggest fan since it feels like he hardly spoke about what happened and barely took responsibility."
When Travis Scott came on the Circus Maximus' stage to a crowd of eager listeners — beginning the set with "HYAENA" — electrified the crowd. Alexis Hartman, a third-year speech, language and hearing sciences major, commented on the chosen location for Scott's return, less than a mile from the historical Roman Colosseum.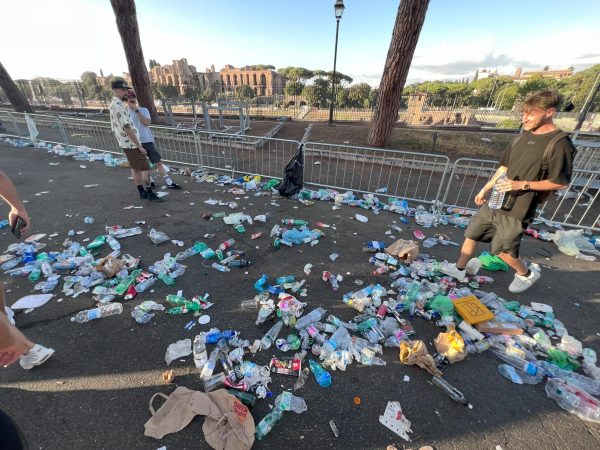 "Given Scott's recent reputation, I am surprised (Rome) would allow an event of that size to take place so close to ancient sites, as in any event of such size, there can be complications with the ruins," Hartman said.
Hartman's surprise was one of many as local Roman authorities reported calls from concerned citizens of an earthquake that was produced by Scott's fans. 
Rautenberg also agreed that a concert near ancient ruins carries potential danger. However, she said that caution is the best approach to avoiding issues.
"As long as the implications are taken into consideration and necessary measures are taken, I see no problem with holding a concert there," Rautenberg said.
A surge of cheers followed the surprise appearance of highly controversial artist Kanye West, who stayed on stage for two songs before leaving to thunderous applause. This unexpecting appearance marked the first time West has performed live since his antisemitic comments in the media last year. The decision to bring out West was incredibly controversial for some fans, with some criticizing Scott for enabling West.
"Kanye's past comments were unacceptable and reflect poorly on his character. And (it) reflects poorly on Travis Scott because by bringing him out to perform. (Scott) is condoning that behavior," Rautenberg said. 
After West's performance concluded, Travis Scott praised the rap legend. 
"There is no 'Utopia' without Kanye West," Scott said. "There is no Travis Scott without Kanye West. There is no Rome without Kanye West."
Despite West's controversial reputation, Travis paying homage to his mentor struck a chord with some fans like Pecceu.
"It is clear that Kanye West has been one of Scott's biggest influences and it was mind blowing to see them performing together on stage," Pecceu said. "This entire concert was a great way for me to forget about the controversy and enjoy greatness."
Fans of Scott hope that this concert is a step for him in the right direction to learn and evolve from his mistakes, but with all the controversy and the drama regarding Scott's return, it is anyone's guess as to what the future holds.