At the heart of San Diego State's bustling campus, a remarkable individual stands out as a beacon of student leadership and academic excellence. Meet Ally Gallant, the 2023-2024 Associated Students Vice President of University Affairs, who is a senior majoring in political science.
In a realm where a traditional undergraduate degree often spans four years, Gallant is shattering norms by accomplishing this milestone in just three years.
Gallant's excellence expands outside of the classroom, where she has taken on roles such as being an A.S. College of Arts and Letters representative and interning for Sen. Dianne Feinstein. 
Her accomplishments make it no surprise that she would be serving as this year's A.S. Vice President of University Affairs. This position largely dedicates itself to the academic activities of the university such as academic policies and resources.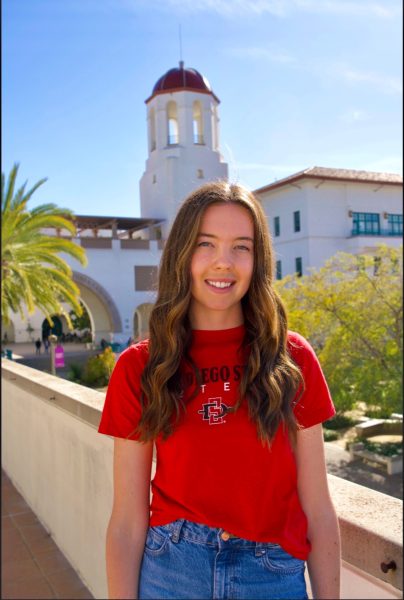 "I really resonate with (A.S.) values of service and professional development," Gallant said. "I really do love the people in A.S. and the community that we try to create to help students succeed in every aspect of campus life — whether that's academics, extracurriculars or career development." 
Taking the helm as the Vice President of University Affairs, Gallant has assumed a position of great influence within the university's governance structure. At the core of her responsibilities is the stewardship of the University Council Board — an essential body that acts as a connection between the student body and administration.
"To advance student careers, I would like to use the University Council as an avenue to promote internships and future opportunities for students through Career Services," Gallant said. "I want to bring in our Career Services team to further talk to students about the opportunities that we have in regards to career development." 
Her role demands versatility to navigate academic issues, collaborate with faculty, staff and administration and prioritize the student voice in decision-making and leadership.
"A misconception about Associate Students is that it's not as reachable for students," Gallant said. "In our roles, we really want to be accessible for students and let students know they can come to us with any problems that they're facing and that we will be there to help solve them."
Gallant's responsibilities, however, go beyond the confines of council meetings and academic interactions. She also spearheads the "Your Voice Matters" initiative — an embodiment of her commitment to amplifying student perspectives. 
Under this initiative, a user-friendly form is available on the A.S. website, providing students with a platform to express their opinions, concerns and questions. Gallant's team diligently follows up on these submissions, turning feedback into tangible improvements.
"I want to make myself accessible for all students, and not just run meetings. I want to achieve my own goals and initiatives for the semester," Gallant said. "(And) offering a place where students can come in and I can be that person who can help them out, listen and just provide that comfort where they need it."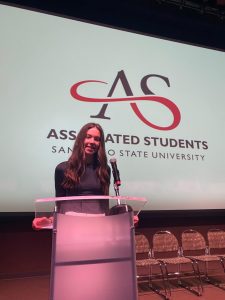 Gallant noted that the university is facing a period of tremendous growth, and that with this expansion comes transition — specifically the transition to the new online student portal my.SDSU.
"It is foundational that students should be able to access my.SDSU a bit easier, so is making sure that my.SDSU is a platform that students feel comfortable using in order to access the courses that they need," Gallant said. "My goal is to improve the user-friendly navigation of my.SDSU by incorporating adequate student feedback."
Beyond her studies and role in Associated Students, Gallant is an avid runner — a hobby which she says helps to keep her sane. Gallant's top running spot is along Pacific Beach, where she often trains for marathons and half marathons.
"Running has really been my thing, and my way of preserving my own peace," Gallant said. "Amidst the craziness of life, school and my job, running has served as that hobby for me to enjoy."
Even amid the challenges and commitments of student life, Gallant wants to stress her availability and openness for students to come to her with any issues or concerns they may have. 
"All of our executive team members are excited to start this year off and be able to accomplish our goals, which is really important to us," Gallant said. "We really just hope to be a voice for students and to empower students to use their own voice."