BASEBALL: Aztecs win in ninth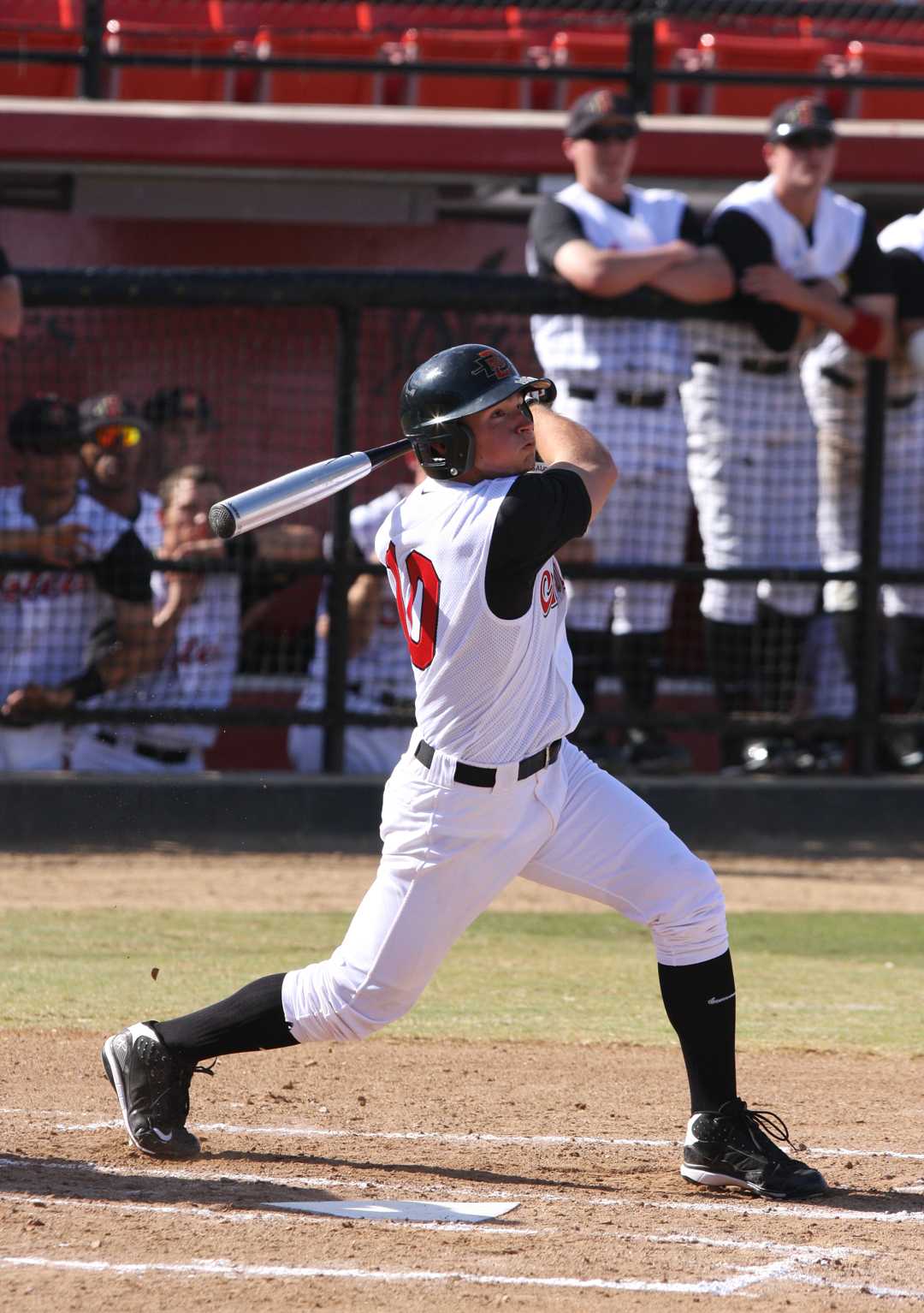 David J. Olender / Photo Editor
Junior outfielder Pat Colwell had a long walk back to the dugout. This walk, however, was not after a swing-and-miss strikeout. This was after Colwell scored the eventual winning run in the San Diego State baseball team's 4-3 victory at Long Beach State Tuesday night.
"It was a pretty long walk back to the dugout, but I didn't care," said Colwell, who went 2-4 in the contest. "I walked by Erik Castro and he was pumped. (The players) were crazy in the dugout."
Freshman first baseman Brandon Meredith, who singled home Colwell in the ninth inning on a bases loaded line drive, was also feeling the energy when he delivered the winning base hit.
"I was pumped because earlier in the game I missed an opportunity, and I just felt I needed to do something," Meredith said. "He threw me a splitter and it was up. Allyear long we've fought back and this was just another example of us fighting through."
The game wasn't over then and there, however, as "The Dirtbags" (14-14, 2-1 in Big West Conference play) had a chance to spoil SDSU's (23-11, 6-3 in Mountain West Conference play) victory in the bottom of the ninth.
A walk and an error gave Long Beach State runners on second and third with no outs against Aztec sophomore closer Addison Reed. The fireballer did not get flustered, and instead induced a comebacker, a strikeout and a foul out in succession to keep both runners stranded and the lead safe.
"(Reed) didn't panic. He really kept his composure out there," head coach Tony Gwynn said. "That was a great play on the foul out by Meredith. It was a good win for our club."
For Gwynn, it was his first-ever win at Long Beach State University.
SDSU will continue its road trip today at UNLV. The Rebels (15-16, 4-5) have a strong offense, boasting a team batting average of .317. That offense was shut down by Aztec pitchers earlier this year at Tony Gwynn Stadium. UNLV was swept in the three-game series and only managed to put up six runs total. SDSU scored 25 runs in the three-game set.
Still, Gwynn thinks his team has a lot to work on even considering his team's big win Tuesday.
"Going into this weekend we're a little concerned. That bugaboo that we've been talking about showed up again," said Gwynn, referring to his team's inability to pad leads to help out the pitching staff. "(Tuesday's win) is a double-edged sword. It's a good feeling to win, but we need to start cashing in on our opportunities to add to our leads."
Junior ace Stephen Strasburg is expected to start Thursday's game, coming off an impressive showing at PETCO Park last Friday in the Aztecs' 14-0 win over UC Davis.
When: 7 p.m., today
Where: Las Vegas
Why to watch: Junior ace Stephen Strasburg might take the hill tonight against the Rebels.