ALL THE WORLD'S A STAGE: The king lives on in award-winning musical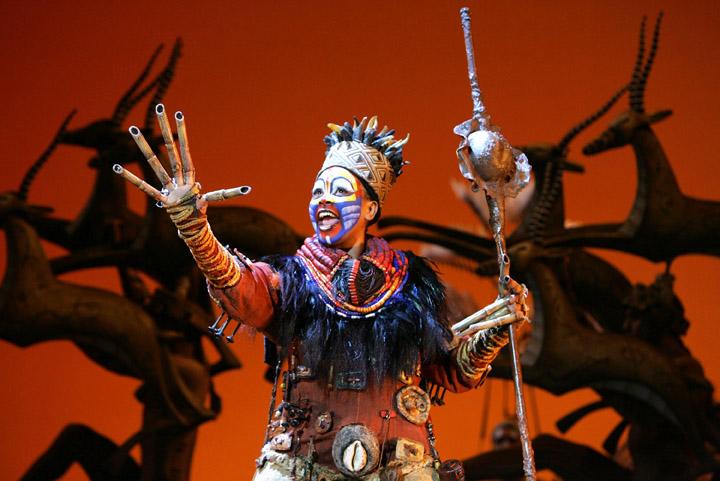 Courtesy of San Diego Civic Theatre
Perhaps the most misunderstood lyrics are "Nants ingonyama bagithi baba. Sithi uhm ingonyama. Siyo Nqoba, ingonyama. Ingonyama nengw' enamabala." These words are not gibberish but actually the African language Zulu for "Here comes a lion, Father. Oh yes, it's a lion. We're going to conquer, a lion and a leopard come to this open place."
However, they may be more familiar than one might think: They are the opening lines to the Disney film "The Lion King."
Coincidentally, they are also the beginning lyrics of the Broadway play based on the movie. This month, the musical "The Lion King" has stopped in San Diego during its second sold-out decade on the stage, and it still gives audiences something to roar about.
The spectacle has won more than 40 major awards worldwide including the Tony Award for Best Musical in 1998 and caused director Julie Taymor to become the first woman in Broadway's history to win a Tony Award for Best Director of a Musical. The score features the original music from the movie written by Elton John and Tim Rice, as well as three new songs also written by the same team. Additionally, there are more than 200 different puppets in the show, 53 cast members and an 18-foot-long set piece of Pride Rock.
With all the splendor of the production, it's no wonder "The Lion King" has been critically acclaimed around the globe. The spine-tingling opening song "Circle of Life" features a cornucopia of jungle animals gathering from every direction, including a group that parade down the center aisle of the theater. The event only becomes more jaw-dropping in the recreated stampede of 52 wildebeests and an army of 39 hyenas.
One marvelous factor in "The Lion King" is its use of people in place of sets. Many actors dressed as the grasslands or plants will be on stage, giving the musical a unique and charming feel.
"The Lion King" pays homage to its roots by celebrating its African heritage. The cast uses the African tradition of masks to tell the story and become the animal characters.
Some cast members are even originally from South Africa, including Phindile Mkhize who plays Rafiki. Also, during some scenes the dancers are dressed in traditional African clothing and there is a percussionist on both sides of the stage. Each is surrounded by a medley of African drums in order to better represent the musical culture of the continent.
"The Lion King" has proven to be the king of the Broadway world, delighting theatergoers everywhere. The show will be in San Diego until Nov. 8 at the San Diego Civic Theatre. Performances are at 7 p.m. Tuesdays and Wednesdays, 7:30 p.m. Thursdays, 8 p.m. Fridays and Saturdays, 2 p.m. Saturdays and 1 p.m. and 6:30 p.m. Sundays. Tickets are available at the theater box office located downtown at Third and B Street, all Ticketmaster locations or online at www.broadwaysd.com.