What's #Trending: Junior Seau, Adam Yauch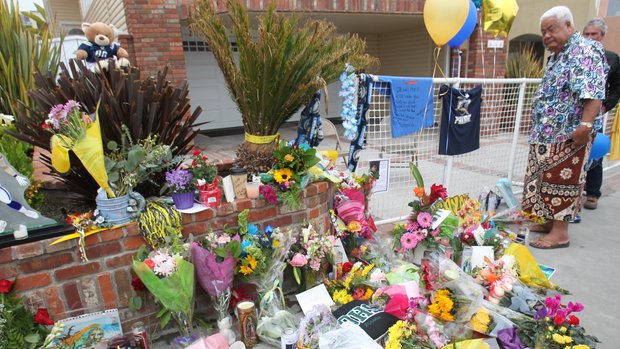 This week the entertainment industry tragically lost two icons and naturally, mourners used social media to vent about the passing of hometown-hero Junior Seau and Hip Hop pioneer Adam Yauch.
Trending Topic: Junior Seau
Former San Diego Chargers linebacker Junior Seau was found in his Oceanside home with a gunshot wound to his chest Wednesday morning. Authorities declared his death a suicide and the 911 call was released Friday (warning: graphic audio).
Seau, 43, played in the NFL for 20 years: 13 seasons with the San Diego Chargers, three with the Miami Dolphins and four with the New England Patriots.
The Chargers released a statement on Twitter: "Everyone at the Chargers is in complete shock and disbelief right now. We ask everyone to stop what they're doing and send their prayers to Junior and his family."
In addition, a variety of celebrities shared their remarks on Twitter:
@tomarnold: RIP Junior Sea. Got to know him on the sports show and a bunch of charity stuff. Great guy. GREAT ballplayer. Respect to his family.
@carsonjdaly: So sad to hear about Junior Seau. Growing up in LA a big football fan he was a best. I'm praying for his family especially his 3 kids.
@drewbrees: So sad to hear about Jr Seau. Junebug. Buddy. The greatest teammate a young guy could ask for. This is a sad day. He will be greatly missed.
@tonyhawk: Goodbye Junior Seau, you were an inspiration for turning success into greater good. Thank you for making San Diego a better place for youth.
USC remembeed Seau as well, an alumni, with a video.
___
Trending Topic: Adam Yauch
Beastie Boys rapper Adam Yauch, also known as MCA, passed away Friday at age 47 after battling with cancer. In 2009, MCA announced he was diagnosed and would be treated for a cancerous parotid gland and a lymph node.
"It is with great sadness that we confirm that… founding member of Beastie Boys and also of the Milarepa Foundation that produced the Tibetan Freedom Concert benefits, and film production and distribution company Oscilloscope Laboratories, passed away in his native New York City this morning after a near-three-year battle with cancer," read an official statement on the Beastie Boys website.
Many celebrities honored Yauch via Twitter:
@UncleRUSH (Russell Simmons): Adam was incredibly sweet and most sensitive artist who I loved dearly and was always inspired by his work. He will be missed by all of us.
@travisbarker: Rest in Peace Adam Yauch /MCA. 4ever somebody I looked up to & had the pleasure of meeting. Damn this bums me out, we lost one of the best
@petewentz: Beastie boys paved the way for so many who came after. #RIPMCA
Rolling Stone commemorated Yauch through photographs of him throughout the years.
As always, you can keep up with me @DHernandez325 on Twitter.