Muema takes leap of faith out of NFL combine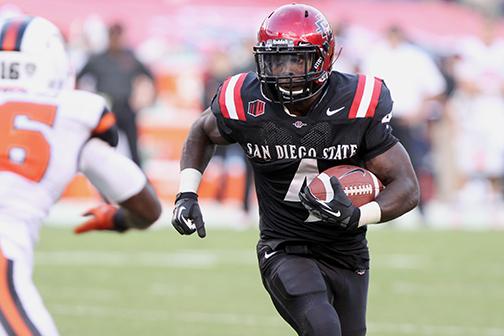 Former San Diego State running back Adam Muema captured more media attention during the NFL Scouting Combine than what is expected from a projected late round pick in April's NFL rookie draft.
Unfortunately, the path Muema chose wasn't as fortuitous as his routes chasing collegiate football touchdown glory, nor did the attention result from blistering 40-yard dashes or Herculean bench presses. It's because Muema prematurely bolted after God told him to go "enjoy the peace," according to U-T San Diego reporter Michael Gehlken.
This wasn't the Hebrew God telling Noah to build a boat, or even the Hollywood God telling Ray Kinsella to carve a baseball diamond out of an Iowa farm in "Field of Dreams." [quote]This, allegedly, is the God who deceived Tim Tebow into thinking he was an NFL-caliber quarterback. For all his omniscience, God is a lousy talent scout.[/quote] The Almighty One can be forgiven for being a poor judge of collegiate talent because he's spent too many Saturdays standing sentinel over Notre Dame's up-and-down football squad.
Deadspin posted Muema's abdication on its Facebook page and within hours the post had more than 200 responses. But even 12 hours after the story broke, Muema had yet to crack the crown jewel of social media—the Twitter trending list.
[quote]Americans were more dialed in to "Private Lives of Nashville Wives" than the First Chronicles of Adam. [/quote]
But of those who posted to Deadspin, the usual holy war between believers and non-believers raged: Should Justin Bieber be deported? Oh, wait, it's "believer," not "belieber."
While some commentors questioned Muema's ability to handle stress, others praised him for having the courage to trust his faith. God predicted the Seattle Seahawks will draft the Aztecs' fourth-best career rushing leader if he obeyed the Lombardi Lord's demand to take his ball and go home, not that anyone ever needed incentive to leave Indianapolis. But does it require much faith when the Promised Land is the evergreen fields of the reigning NFL champions? Would he have been a Doubting Adam if God said he was destined for Oakland, the NFL version of hell? After all, even yours truly would toggle my religious preference from non-believer to zealot if God decreed that skipping my next class will result in marriage to supermodel Kate Upton.
Muema's unverified Twitter feed, @So_Lucrative, overflows with Bible verses. He is either as deeply into his own private joke as Joaquin Phoenix was when he pretended to retire from acting to pursue a career in rapping, or adding "Seahawks #8" to his Twitter bio shows commitment. Seattle doesn't have a player wearing that number, so God just might be Snapchat pals with Seahawks head coach Pete Carroll. My imagination waxes rapturous thinking about the delicious post-game opportunities involving over-excited Seahawks cornerback Richard Sherman and over-pious Muema. If God's prophecy is fulfilled, Fox TV sideline reporter Erin Andrews will want to avoid Seattle as much as she now likely avoids standing naked in front of a hotel door's peephole.
Muema's faith might raise eyebrows with NFL executives since their Sundays are for football. If they are skittish, they won't want to see Muema's Feb. 22 tweet calling for believers to refrain from working on the Sabbath. But Muema giveth as much as he taketh away. He tweeted on Feb. 13 that the Sabbath is a Saturday. All Aztec football fans know that Muema did a lot of gridiron work on those days.  So does the NFL have room for another undersized running back similar to former San Diego Charger Michael Turner?
Time will tell how much playing hooky from the NFL combine will affect Muema's ability to play for the NFL. At least he'll get another chance to impress during SDSU's Pro Day workout, but presumably only if God tells him to go.
Photo by Monica Linzmeier