Emma Henrikson gets second place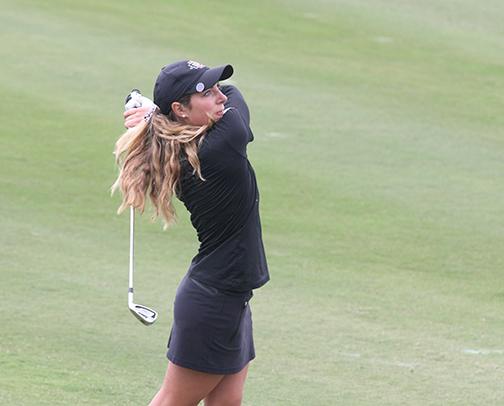 As is tradition at Mission Hills Country Club in Rancho Mirage, California, host of the LPGA's Kraft Nabisco Championship, tournament winners take a dive into the green side of Poppie's Pond on the 18th hole. Unfortunately for sophomore Emma Henrikson of the San Diego State women's golf team, her three-round aggregate score of 219 was just one stroke too many to earn herself a pool day.
Henrikson's par on the 18th matched the tournament winner, Fresno State University's Guðrún Brá Björgvinsdóttir, who had a one-stroke lead. The Aztec from Malmo, Sweden finished the conference championship in a tie for second place, marking the best finish of her Aztec career.
"It always stinks to lose by one shot," Henrikson said. "But I'm happy with the finish overall."
The weekend ended with another high note as Golfweek's No. 88-ranked Henrikson was awarded first-team All-Mountain West honors for the second time in as many years.
"As I play I try not to look at the scores or pay attention to the girls I play with because if I think too much about everyone else my game will start to suffer," Henrikson said.
Prior to the tournament, Henrikson had no doubt her team could contend for the conference title, and her team-low 74.13 18-hole stroke average suggests she could very well have gone swimming on Saturday.
The opening round of competition was closely contested. Henrikson's one-under 71 earned her a share of a five-way tie for first place, which anchored the Aztecs' one-shot lead. A second round 73 set her two shots off the lead forcing her to play catch up on Saturday.
"My long game was pretty solid," Henrikson said. "I gave myself a lot of birdie chances out there but my putting wasn't on at all this week, unfortunately. It could have been a lot better."
The Aztecs' combined 20-over par scores on Friday and Saturday dropped them into a tie for third place with Fresno State University and the University of Nevada, Las Vegas.
Prior to the tournament, Henrikson talked about her rivals within the conference and how she avoids focusing on her competition rather than the course.
"Dana Finklestein from UNLV is a really good player," she said. "She's probably going to be an All-American so it's a goal of mine to beat her. There's also Sammi Stevens and Minon DeRoey on the New Mexico (University) team. They're two rival players that I beat sometimes and sometimes they win too, but I know I can beat them all."
Henrikson is focused on leading SDSU into the NCAA Regional Tournament in May. The top 18 teams in the field of 50 will advance to the NCAA National Championship in Tulsa, Oklahoma.
Henrikson looks forward to her return to Sweden for the summer where she will rejoin the Swedish National Team. She will arrive to plenty of praise from members of her home course, who are some of Aztec golf's biggest fans.
Photo by Wesley Beights, staff photographer