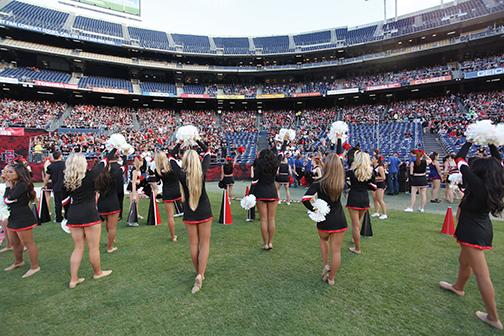 San Diego State football kicks this month, poised to push its bowl streak to five. USA Today ranks SDSU at No. 58, Lindy's Sports picks the Aztecs as West Division champs in the Mountain West, and sophomore running back Donnel Pumphrey is a player to watch for the nation's top running back award.
Despite this, the football team struggles to fill Qualcomm Stadium. Because every home game this season but one is scheduled for national television coverage, cameras will capture another season of another lifeless Qualcomm.
That's a big problem. It won't be just San Diegans or rival Mountain West fans noticing empty seats, it'll be bowl selection committees, according to U-T San Diego columnist Nick Canepa.
"Bowl (committees) give games to teams that travel well," Canepa said. "SDSU doesn't travel well."
Before SDSU can "travel well," it'll have to start drawing at home. And its home is the problem. Qualcomm's dilapidated feel doesn't seduce San Diegans.
"They play in a stadium that isn't considered 'cool.'" U-T San Diego columnist Tod Leonard said.
"Energy breeds energy," Leonard continued. "And there is very little energy at Aztecs football because it's swallowed up by 67,000 seats."
SDSU draws well on paper. Officials say 199,344 attended games in 2013, or an average of 33,244 fans per game.
However, U-T San Diego columnist Stefanie Loh's Jan. 14 article suggests that SDSU's official attendance isn't what TV audiences see. Loh writes that SDSU counts total tickets issued instead of turnstiles turned. According to Loh, 61,619 fewer fans attended in 2013, or an average of only 22,954 per game.
While SDSU considers tickets issued a barometer of fan interest, bowl committee members see only what TV shows them—a stadium one-third full.
The solution to a stadium too big seems simple. But locals know that building a stadium is hamstrung by environmental and economic issues. Lawsuits delayed Petco Park for six years, and San Diego taxpayers thwart the San Diego Chargers' zeal for new digs. Moving SDSU out of Qualcomm won't happen unless it's demolished.
This leaves SDSU with four options for increasing attendance, with the first one eluding them since Marshall Faulk left in 1993.
"You have to have a hook," Canepa said. "Somebody that makes a fan say: 'Man, I've got to go see him play tonight.'"
But clouding that issue is that high-school-football-rich San Diego is recruited heavily by football powerhouses in the powerful Pac 12. And despite its home-and-home series against Oregon State University, recruiting rivals won't risk playing here—which hampers the second thing for elevating home attendance: Draw big-name opponents.
"A lot of those schools don't want to play SDSU because they recruit in this area," Canepa said. "Some of those schools think they have everything to lose and nothing to gain coming here."
Instead, SDSU schedules away games against football powers. But for those games to increase its recruiting pull, SDSU must avoid blowouts such as last year's 35 point loss to Ohio State.
"It's important to play those schools," Canepa said. "But if (SDSU's) just taking its million bucks and getting out of there with a loss, I don't know how much it helps."
If SDSU can't entice marquee programs to Qualcomm, then perhaps it can entice fans through promotional giveaways and special events. After all, the annual KGB-FM Sky Show is always the best attended game.
"This town has always responded to free stuff, but I'm not sure what SDSU would give away to compel more to come," Leonard said.
A look at this year's promotions reveals that SDSU is giving away just T-shirts and blankets. The problem, though, isn't a promotions department punting. Instead, it's a state budget deficiency.
"(SDSU's) a state university," Canepa said. "How much money can it spend on promotions?"
If SDSU is going to increase promotions, it's going to need corporations acting as ambassadors, absorbing the cost of the promotional items.
This leaves the last thing SDSU can do, and fortunately it's something it can control. SDSU must keep winning.
"The only way for them to boost attendance significantly is have a season in which they go undefeated—or close to it—and become a part of the new bowl playoff picture," Leonard said. "I don't see any other way to do it."