Helmer shoots to score as new leader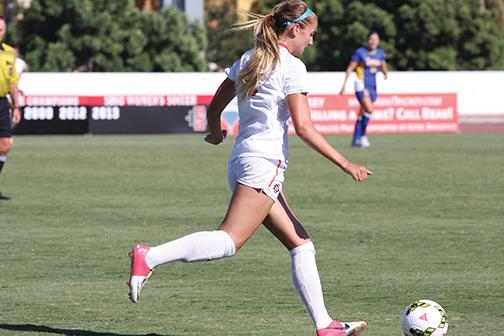 San Diego State's women's soccer midfielder Mariah Helmer enters her senior season with a leadership goal in sight.
"This season I want to help lead the team as much as I can," Helmer said.
Helmer's leadership is important for a team seeking its third consecutive Mountain West Conference title despite adding eight new players.
"It's difficult because they don't know exactly how we play," Helmer said after the team's first official practice on Aug. 11.
Helmer said Aztec veterans took it upon themselves to hold practices with the first-time Aztecs for two straight weeks before official practices began.
"I talk to (the new players) constantly throughout practice," Helmer said. "I explain how we move the ball."
The Mission Viejo, California native also teaches what she's learned off the field during three years of studying communications and playing soccer for SDSU.
"Being my fourth year, I've learned how to balance all of it," Helmer said. "It takes the right amount of time between schoolwork and soccer."
Balance is the key given that the schedule makers didn't do the Aztecs any favors. For the second year in a row, the Aztecs must survive an extended amount of time on the road.
Beginning later this month, seven of its next 10 games are away from the SDSU Sports Deck and its boisterous fans. Unlike football with its one game per week schedule, soccer players must juggle airport layovers and quick turnarounds with classroom commitments.
The newcomers lean on veterans such as Helmer to get them through. And Helmer leans on "The Process."
"It's guidelines on how we get to our goal," Helmer said.
"The Process" is a concept created by head coach Mike Friesen. Its micro-focused approach is designed to break down a daunting larger goal, such as winning that third consecutive conference title, into easily understood parts
"We start with how we treat each other," Friesen said. "We'll do that with every facet of our program so that all our players understand the big picture."
Friesen's process was born following the Aztecs' third-round 2012 NCAA tournament elimination.
"In 2012, we set a goal to get to the Elite Eight," Friesen said. "And I thought that was lofty."
But after reaching that goal and losing the next game, Friesen wondered if the goal was set high enough, and that's why he now concentrates on each game instead.
"Our goal now is to be the best team we can be," Friesen said. "And we look only to the next game because we know our best is going to accomplish a lot of things."
Helmer said the team enjoys taking it one game at a time.
"We all thrive under pressure," Helmer said. "It's really fun."
"The intensity of our practices makes everyone become a better player every day," she continued.
Enjoying both the game and arduous practices is a change from how Helmer was first introduced to soccer.
"I started playing when I was 5," Helmer said. "I hated it during my first year."
But out of that dislike, she learned resilience.
"My mom told me to play one more year, and I ended up loving it," Helmer continued. "Just kicking the ball around and hitting people made it fun."
Helmer is doing well "kicking the ball around" this year. She notched her first goal of the season last Friday against the University of California, Riverside. That goal is just one more confirmation for "The Process," and for Helmer's on-field leadership ability. And that's a good goal to have.