SDSU finishes third at Husky Invitational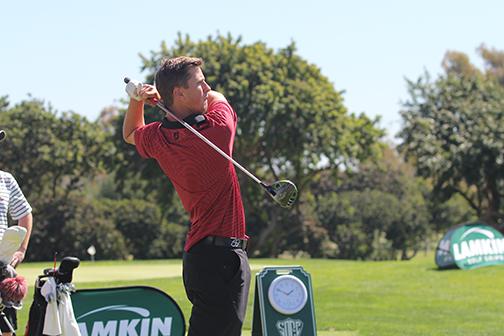 The San Diego State men's golf team finished in third place on Tuesday at the Husky Invitational with its combined score of 9-over-par 873, just six shots behind co-champions University of California, Los Angeles and University of Oregon. One stroke in Tuesday's final round was all that separated SDSU and fourth-place University of Washington, the tournament host.
As Monday's doubleheader came to a close at Gold Mountain Golf Club in Bremerton, Washington, the Aztecs were just one shot off of the lead behind UCLA at 1-over. They held a share of the tournament lead for a brief moment during the final round, but lost it in the last few holes as a couple of Aztecs found choppy waters down the stretch. An 8-over-par 296 in its final round, which was nine strokes more than Oregon and five strokes more than UCLA, proved to be the only blemish on an otherwise solid team performance.
The third place finish marks SDSU's second top-five finish this season in as many events. They didn't find the top five in the 2013-2014 season until their fifth event where they took home the trophy at the Jones Invitational.
For the second tournament in a row, the Aztecs were represented by a top-five individual finisher, with senior Xander Schauffele slotted in sole possession of second place at 4-under. Schauffele made the turn during his final round at 2-under par after bogeying the par-5 ninth, and gave up two more strokes after going bogey, birdie, double-bogey to open up the back nine. He eventually got the strokes back with birdies on the par-5 14th and par-4 18th.
Already playing catch-up to the junior, leader Jake Knapp of UCLA, who was 6-under entering the finale, Schauffele's mid-round shakeup prevented him from challenging for medalist honors. Tuesday's second place finish was the eighth top five finish of Schauffele's career.
"He played very well," head coach Ryan Donovan said. "We expect Xander to contend."
Sophomore Nahum Mendoza III held his own early, posting rounds of 72 and 70 on Monday. Mendoza III was present toward the top of the leaderboard, holding a share of third place mid-way through Tuesday's round before falling apart on the back nine.
After nine straight pars to open up the round, Mendoza III went on to bogey six of nine back-nine holes, including four in a row on holes 12 through 15, en route to a 5-over 77. Those four extra strokes dropped him 10 positions into a four-way tie for 13th.
Freshman P.J. Samiere found himself in a rough patch down the stretch as well, after he opened up his final round with a bogey, double-bogey, double-bogey, and bogey on the first four holes. Samiere carded a 6-over 78 in the finale dropping him into a tie for 27th at 7-over for the tournament.
It took a rainfall on Tuesday for Junior Riccardo Michelini to settle in, firing a 71 for his only sub-par round of the tournament. The damage was done for Michelini during the first 54 holes on Monday after posting birdie-less 79 in round one and 75 in round two.
SDSU will have a quick turnaround this week as it prepares for the University of  New Mexico Championship on Friday. The Aztecs finished in 6th place to tournament champion UNM in last season's appearance.