Aztecs pick Wolf Pack apart in 5-1 win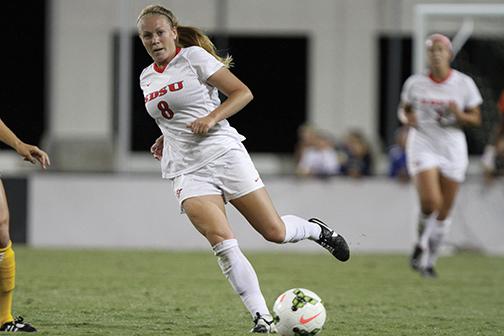 The San Diego State women's soccer team continued its domination of the Mountain West Conference as its match against University of Nevada, Reno was never in question. SDSU went on to win 5-1 last Friday in Reno. This victory marked the Aztecs' sixth straight win and improved their conference record to 5-0 on the season.
SDSU (10-2-1, 5-0 MW) came into this matchup leading in almost every statistical category in the conference. This includes goals (26), assists (23), shots (237), points (75), shutouts (5) and corners (91). On the other side was Nevada (4-9-1, 1-4 MW), who was near the bottom in all these categories, which should not be surprising that the Aztecs were able to pounce on the Wolf Pack early and often.
Senior midfielder Katie Perry opened up the scoring in the 16th minute as she launched a rocket that deflected off a Nevada player and easily found the back of the net. The Mission Viejo product was fed by fellow senior Haley Locker, who notched her third assist of the season.
SDSU struck again in less than four minutes when junior defender Meggie Gulczynski took a free kick from 30 yards out that sophomore defender Jen Rupey was able to tip in from point blank to slip one past Nevada's junior goalkeeper Devyn Bryar.
In what should have been a routine play between defender and goalkeeper, turned disastrous for Nevada. The defender attempted to kick the ball back to her keeper, however, Bryar went up to play the ball and left the net wide open and the ball trickled in for an own goal in the 29th minute.
The Wolf Pack was able to redeem itself for an embarrassing miscue and netted its only goal of the match when freshman forward Angel Meriwether was able to find the back of the net in the 40th minute.
It took 30 minutes into the second half for the Aztecs to add to their lead. Sophomore Morgan Darling took full advantage of the penalty kick she was awarded after being taken down in the box. Perry had her number called to take the kick and continued the perfect streak on penalty kicks for SDSU.
The final goal of the game came just two minutes later as senior forward Kelsey Booth tapped the ball into the corner of the net, who was assisted by Locker, for her second of the game. Booth's goal marked the sixth straight game she has found the back of the net.
Nevada never threatened again and the Aztecs went on to finish the game comfortably.
The five goals scored by SDSU, along with the four-goal differential, were the most for the Aztecs on the season.
Be sure to check out TheDailyAztec.com for a recap of Sunday's matchup between SDSU and the University of Nevada, Las Vegas.