No 'Show' for the ladies in Viejas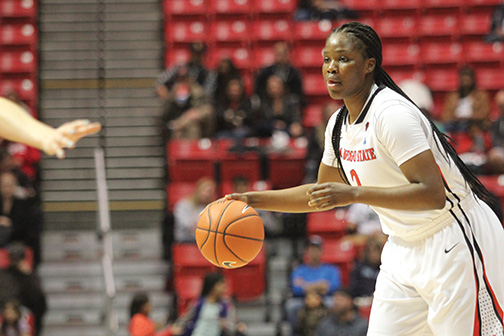 by Mike Heral, Senior Staff Columnist
November 10, 2014
I know a place on campus that is almost so quiet that it hurts your head. It's a place where you have more elbowroom than a Lake Michigan beach in the middle of February. It'd be perfect to get some homework done if it wasn't for an annoying sound erupting seemingly every 10 minutes.
No, it's not Love Library and its out-of-place coffee stand. It's Viejas Arena, believe it or not, and it's a fortress of solitude for every San Diego State women's basketball game.
Call it the anti-men's basketball experience. The men get the glory because they are perceived as SDSU's best hope for a major athletic championship. Their games are sold out and students must line up — and miss classes — just for the chance to get inside. And once there, there certainly isn't tranquility, and a student swinging his or her elbows near overly amped up fans isn't in his or her best interest.
But there's a funny thing about this comparison between teams, and here's how it plays out by the banners swinging from the arena rafters.
One.
That's the difference in banners between the two teams since 2009.
One.
The difference between NCAA Sweet Sixteen appearances for our athletics teams in the same span.
Zero.
And that's also the difference between Mountain West Championships, regular season or tournament, between them. They each have five.
Do you see the pattern? So why does the student base embrace one and shun the other? After all, it isn't every women's collegiate sport that is poorly attended here. Women's soccer and its three consecutive MW Championships fill the SDSU Sports Deck. Softball also boasts capacity crowds. Now, both of those stands are smaller than Viejas but neither baseball nor men's soccer draw as disproportionately as basketball.
Perhaps an answer can be found by examining another number:
Thirty-three.
That's the difference in the number of telecasts between SDSU men's and women's basketball. Every men's regular season game will be televised but not one single women's game will be. And, no, I'm not counting the ridiculous MW-internet thing they call TV.
Even collegiate media can be blamed for shutting out our ladies. While this paper did include a couple women's articles in its special basketball issue, bloggers don't. If a fan's only exposure to this sport was through new media, then he or she can't be blamed for not knowing it exists. Whereas men's basketball lunacy was officially reached when writers reported on a "secret" scrimmage with all the gusto typically reserved to reporting on peace accords, no one lifted a finger to punch out women's practice coverage.
It's a shame because these athletes deserve their fellow student's support just as much as the limelight-hogging men. They shouldn't have to play every home game inside a valley of red-backed chairs. The laundry they wear identifies them as Aztecs in the same way it does for the men.
There's also a certain element of extra joy involved in watching a game with an outcome that doesn't seem to already be predetermined. Watching the men struggle to score through another game where they are still better than almost every MW opponent makes for a frustrating night, but watching the women battle is more dramatic. Given the lack of knowledge we have about this team, it could be awesome or awful — but we won't know unless we watch.