SDSU baseball honors the late Tony Gwynn at home opener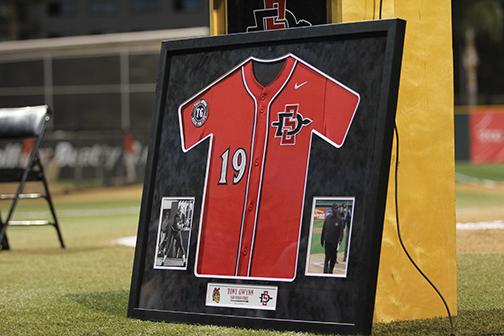 His name once again echoed around the stadium. The fans once again cheered his introduction. "Play hard, have fun," as he always said.
The late great Tony Gwynn's No. 19 was retired Saturday night in an emotional ceremony at the baseball stadium bearing his name, with his family present and in front of 2,519 fans.
"It's very hard to not get choked up and shed some tears, I did that tonight, the standing ovation was unbelievable, it just gives you chills every time you see that many people rise for coach Gwynn," head coach Mark Martinez said.
Tony Gwynn was San Diego State baseball's head coach for the past 12 seasons.
San Diego radio personality Ted Leitner delivered the first speech, in which he said that Tony Gwynn, who passed away from cancer in June, is still here and will never be gone.
SDSU Athletic Director Jim Sterk spoke and presented Tony's wife Alicia Gwynn with a framed No. 19 jersey.
Tony's brother Chris Gwynn, who along with Tony Gwynn played for the San Diego Padres, told a story of when the Padres played a game in Cincinnati in a driving rainstorm.
Chris Gwynn had just finished his at-bat and Tony Gwynn asked him how the batter's box was. Chris replied it was "a little soupy," and that the only way the game was going to be called was if Tony Gwynn went up to the batter's box and acted like he couldn't see.
An inning-and-a-half later, Tony Gwynn walked up to the batter's box, took his helmet off, wiped the water away, put his bat under his arm, and the umpire called for the tarps.
Leitner introduced the unveiling of a No. 19 out in right field to a standing ovation. There's also a new mural above the right-field wall that depicts Gwynn alongside murals of Golden Spikes Award winners and former SDSU baseball players Stephen Strasburg and Travis Lee.
During SDSU baseball's final home series every year, one player will wear the No. 19 jersey in honor of Gwynn in something Martinez hopes will become a new tradition.
This weekend against Valparaiso University, senior first-baseman Ryan Muno wore No. 19. He said he was honored to wear the number.
"It's definitely humbling and it's definitely a privilege at the same time," Muno said.
Tony Gwynn Jr. threw out the ceremonial first pitch, and Tony Gwynn's daughter Anisha Gwynn Jones sang the national anthem.
Then the Aztecs won a back-and-forth game 5-4. Videos ranging from clips of Tony Gwynn's MLB Hall of Fame speech to videos of players sharing their favorite memories of their late coach played every half-inning.
Muno, whom Leitner mistakenly called "Tony Muno," received a standing ovation on his first at-bat.
Junior pitcher Bubba Derby was phenomenal, striking out 14 batters in five and two-thirds.
The Crusaders grabbed a run in the sixth inning before a wild seventh inning in which Aztecs' sophomore pitcher C.J. Saylor hit three batters in a row, eventually leading to 4-3 Valparaiso lead.
In the bottom of the seventh, junior shortstop Danny Sheehan grounded out to the shortstop, driving in junior outfielder Spencer Thornton. Then junior catcher Seby Zavala doubled to left field, scoring senior outfielder Steven Pallares.
Martinez said it was a little difficult to focus on baseball all week with the anticipation of such an emotional ceremony.
But that wouldn't stop the team from just playing baseball.
"Once the game starts you just kind of do what you've been doing for a long time and you just go out and play the game and coach the game the way you know how," Martinez said after the game.