SDSU football tracks down prized recruit who had gone 'MIA'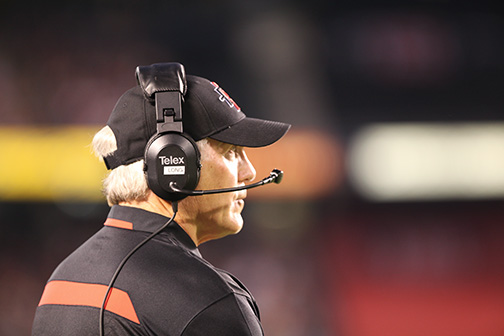 Unlike last season when the San Diego State football wide receivers would regularly disappear midgame, prized four-star recruit wide receiver Desean Holmes was nowhere to be found leading up to the season.
For about three weeks, the coaching staff had been unable to contact Holmes. Numerous phone calls to both him and his foster family had not been returned. Aztecs head coach Rocky Long described the four-star recruit as "MIA."
"We cannot find him," Long said at the Mountain West Media Day in July.
That was last week. Long announced at yesterday's news conference that coaches had made contact with Holmes on July 28. It's still unclear why Holmes wasn't communicating with the coaching staff, but Long made one thing very clear.
"There's no chance he's going to play here this year," he said.
Long added that SDSU is awaiting academic records so it can finalize Holmes' eligibility once he arrives. Long did indicate that Holmes still wants to play for the Aztecs.
Until last week, the last form of communication between the two parties was roughly a month ago to discuss a summer class Holmes could take to become academically eligible for the 2015 season, according the San Diego Union-Tribune.
Holmes initially committed to USC, but then decommitted in December 2014 before committing to SDSU in February. It appeared at the time that the Aztecs filled a big hole at wide receiver, but they'll have to wait at least a year before seeing what he can do on the field.
Patrick Carr contributed to this report