#AztecFB practice report: Long not overlooking toothless Bulldogs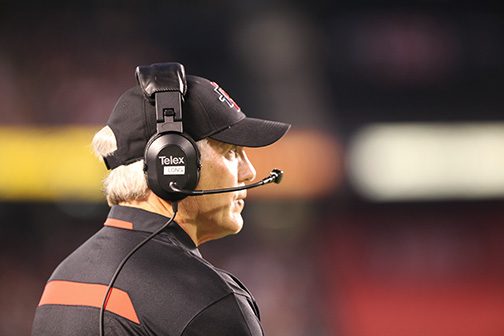 The meat of the schedule begins this weekend for San Diego State football as it faces Fresno State at Qualcomm Stadium on Saturday. 
The Aztecs have struggled in the nonconference portion of the season, going 1-3 with two road losses against Power Five opponents UC Berkeley and Penn State.
Fresno State is a mirror matchup for SDSU, also having gone 1-3 through four games this season.
The Bulldogs have especially struggled on defense, allowing 45 points per game and 10 rushing touchdowns, which is promising for an Aztec team that's found troubles scoring.
Fresno has also had a problem with holding onto the ball this year, like SDSU, turning it over 10 times so far.
Head coach Rocky Long is still not overlooking the conference rival.
"I think they have equal ability to our defense," Long said after practice Monday. "They're very good at the skill positions, they're really fast at wide receiver, have a good running back, and they're starting quarterback is back this week."
The Aztecs will look to regain momentum in the "Battle for the Old Oil Can" series, as they have lost to Fresno each of the last three seasons.
"It's a really important game that should be highly competitive and fun to watch," Long said.
Weak conference outlook
The Mountain West has not performed well early in the 2015 football season.
Only two teams have managed a record above .500, Boise State and the Air Force Academy.
Consequently, both programs are in the Mountain Division, which looks to be the stronger in the conference. The other is the West Division, where SDSU lies.
"It's an interesting year because there's only one good team so far," Long said of the conference. "Nobody else (besides Boise) has proved they can play."
Historically, Long's teams have done very well in conference play, compiling a 25-8 record since he took over in 2011.
Even though the Aztecs are two games below .500, they are still very much alive in the West.
And so is everyone else, according to Long.
"I don't think there's a team on our side of the conference that doesn't have a chance," Long said. "We're all equally talented, so it's going to be whoever gets hot and gains momentum."
Penny's impact not going unnoticed
One of the lone bright spots this season has been sophomore running back Rashaad Penny, who last week ran back his second kickoff-return touchdown of the season.
In addition, he took a sweep handoff and busted it down the sideline for 55 yards, which set up a passing touchdown from senior quarterback Maxwell Smith.
It's hard to ignore that kind of production. 
"There's a good chance he might be in the slot, throw a short pass or a hitch route to him and see if he can make somebody miss," Long said. "He's being so productive, you've got to find a way to get him the ball."