SDSU women's basketball's Greenhouse brings grit to Aztecs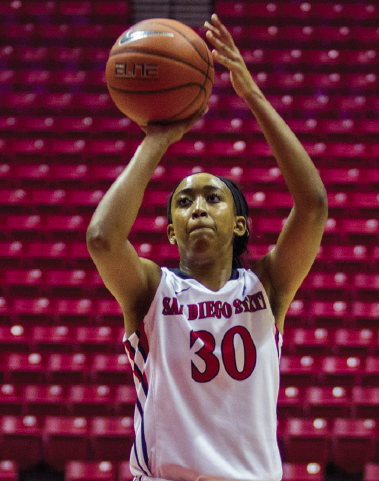 In only her second season playing on the San Diego State hardwood, sophomore guard Cheyenne Greenhouse has etched her name into Aztec basketball history.
Greenhouse, who was born in San Diego to an SDSU alumnus, was a star at Canyon Springs High in Moreno Valley, but always seemed destined to be an Aztec.
In her senior season, she led the Cougars to the 2014 California Interscholastic Federation Division I state championship and gathered national attention as a three-star recruit.
But SDSU head coach Stacie Terry had her eye on the local product even before her senior year began.
"She can do a lot of things and hurt you in a lot of ways," Terry said. "She's a great kid for our program, and is definitely a part of the puzzle that we were trying to fit together when I got the job."
Coming into her first season SDSU's head coach, Terry needed a strong recruit to build her future empire around.
Greenhouse was the player for the job.
"She was actually my first commit," Terry said. "She was the first one to jump on board and believe in our vision, so she's always going to have a special place in my heart."
That vision appealed to Greenhouse, who received many other offers as the No. 24 wing player in the nation in her class.
"I liked how her style of play fit how I liked to play," Greenhouse said. "Focusing on transition and pushing the ball."
Even more than that  was the environment she felt when she visited SDSU and spoke with the Aztec coaching staff and players.
Greenhouse, who has two younger brothers that she tries to set a good example for, was drawn to the family base SDSU was built on.
"It seemed like the team was very close and the coaching staff was very family-oriented," Greenhouse said. "And it seemed like a lot of people had the same goals and the same focus."
Even with a great team environment, the first year at SDSU for Greenhouse was not ideal.
SDSU finished the 2014-15 season with a 12-19 record, and an 8-10 record in Mountain West play.
Greenhouse, one of the two freshmen on the team, appeared in all 31 games for the Aztecs, averaging 3.8 points and 2.8 rebounds in 14.2 minutes per game.
She made her biggest contributions early in the season, starting eight nonconference games, leading the team in scoring twice.
In her first collegiate game, Greenhouse set career marks that stood all season long, scoring 19 points with 11 rebounds in a 99-91 victory against Sacramento State in her Viejas Arena debut.
It wasn't surprising for a player that averaged 21.4 points per game and was named a first-team All-CIF Division I athlete as a high school senior.
Even with her early season success, Greenhouse experienced a character change in a somewhat tumultuous freshman season.
"Last year she was starting for me early," Terry said. "Then her role changed, and I had her coming off the bench."
But that only drove Greenhouse more.
"I think that she really recommitted herself to getting better this summer," Terry said. "Because she had the best summer out of all of our student-athletes."
It was exactly the kind of reaction Terry expected when she pinpointed Greenhouse as one of her future stars.
Greenhouse will be relied on heavily her sophomore season, as she's one of only five Aztecs on the 2015-16 team who has previous experience in the starting lineup.
With its struggles last season, there is nowhere to go but up for SDSU.
That should be an easier path to travel with Greenhouse on board.