Better doubles play needed as SDSU men's tennis loses to Harvard, 4-1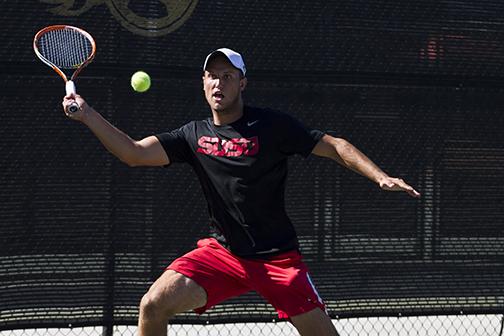 The No. 75 San Diego State men's tennis team struggled to finish the Hilton San Diego Mission Valley Spring Classic on a positive note, as the team dropped its final match against Harvard, 4-1, on Saturday at the Aztec Tennis Center.
In doubles play, sophomore Santiago Cevallos and junior Milen Ianakiev rebounded from two hard-fought losses in their last two matches with a strong win over junior Sebastian Beltrame and sophomore Jean Thirouin at the No. 2 spot.
Cevallos and Ianakiev pulled out the only win for the Aztecs in doubles play, as freshman Sander Gjoels-Andersen and junior Jonas Meinzer dropped their match, 6-0, and redshirt-senior Freddy Gelbrich and junior Hendrik Jebens fell to Harvard's top pairing senior Nicky Hu and junior Brian Yeung, 7-5.
"We need to play in the biggest situations with a little bit more belief in ourselves because the differences are so small out here," head coach Gene Carswell said. "We're close, whether it's a top-10 team in the country or a top-40 team. In a tournament format like this, you're going to play three tough matches in a row and that definitely took some energy off of us and probably contributed to what happened moving forward."
Before dropping Saturday's match against Harvard, SDSU fell to No. 8 Texas Tech, 4-3, and No. 26 Memphis, 4-0.
"Doubles, without a doubt, especially in these matchups, everyone is so close," Carswell said in reference to how the team can improve. "We are going to come out and get that point against a top team. If you want to really put the fear of God in them, you have to go after them and really get that point."
Carswell did highlight the team's ability to remain cohesive deep into matches and work together to the end as a clear strength. Also, Carswell again praised Gelbrich and Jebens for their consistent effort at the No. 1 and 2 spots in singles play.
"We don't shy away from playing a very, very tough schedule, that's for certain," Carswell said. "The whole goal for us is to be playing the way we need to be playing when we go into our conference championships. The goal is to win the conference and make it to the NCAA and continue to peak toward the end of the season."
SDSU is set to begin Mountain West play on Sunday, March 27, at Fresno State.