Anatomy of a Heisman Trophy snub
Follow senior running back Rashaad Penny as he travels through college football award limbo, and go inside the minds of the voters who put him there.
December 22, 2017
Rashaad Penny had just completed the game of his life.
San Diego State's All-American senior running back ran for 222 yards with three total touchdowns and eclipsed a school record with 429 all-purpose yards during the Aztecs' 42-23 victory over the University of Nevada on Nov. 18.
Penny returned both a kickoff and punt for a touchdown in the game and as he walked into the postgame press conference — alongside his redshirt junior quarterback Christian Chapman and junior linebacker Ronley Lakalaka — members of the media were instructed to ask him questions first because he was needed elsewhere.
"When you do things like this, it just feels surreal," Penny said. "I thank these guys and the coaches and this staff — everybody that believes in me — just led me to do this."
Once Penny was ushered out of the room, followed shortly thereafter by his teammates, SDSU football head coach Rocky Long came to the podium. He did not mince words.
"That's one of the best performances, if not the best performance, I've ever witnessed on a football field by Rashaad Penny," Long said. "If anybody was still awake back east, they ought to watch and find out he's one of the best five players in the country."
The performance was not an anomaly for Penny, who had spent the year carving up defenses while racking up an FBS-best 1,824 rushing yards as of the Nevada game.
Penny was on the list for multiple different awards, including the Doak Walker Award, given annually by sports writers to the nation's best running back, and the Heisman Trophy, which is awarded to the best player in college football.
Long, SDSU's grizzled veteran coach who got his coaching start as a graduate assistant at the University of New Mexico in 1972, bristled at the idea that Penny would ultimately get the recognition and respect he'd earned.
"I saw the list (on ESPN) of the six or seven guys that are the best players in the country; I didn't see (Penny's) name on there," Long said. "You know, because you've watched him all this time. I know because I've watched him, but they are not going to give him the credit he deserves."
After what Penny had achieved that night, Long was asked if voters would have no choice but to recognize him.
"Let's hope so," Long said. "I'll be positive tonight… I'll try not to be realistic. I'll be positive."
Only two days later, on Nov. 20, the three Doak Walker Award finalists were named.
Penny, the nation's leading rusher, was not one of them.
Long's premonition had come true.
"It upsets me for (Penny) and it upsets me for his teammates," Long said. "He's as good as anybody they invited…probably better than the guys they invited."
How could the nation's leading rusher and all-purpose yards leader be left out as a finalist for an award given to the best running back?
Was it simply that people on the east coast weren't able to watch the Aztecs late evening games?
Or, as Long would suggest, could there be a more sinister reason?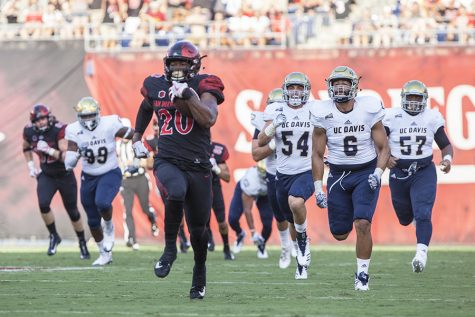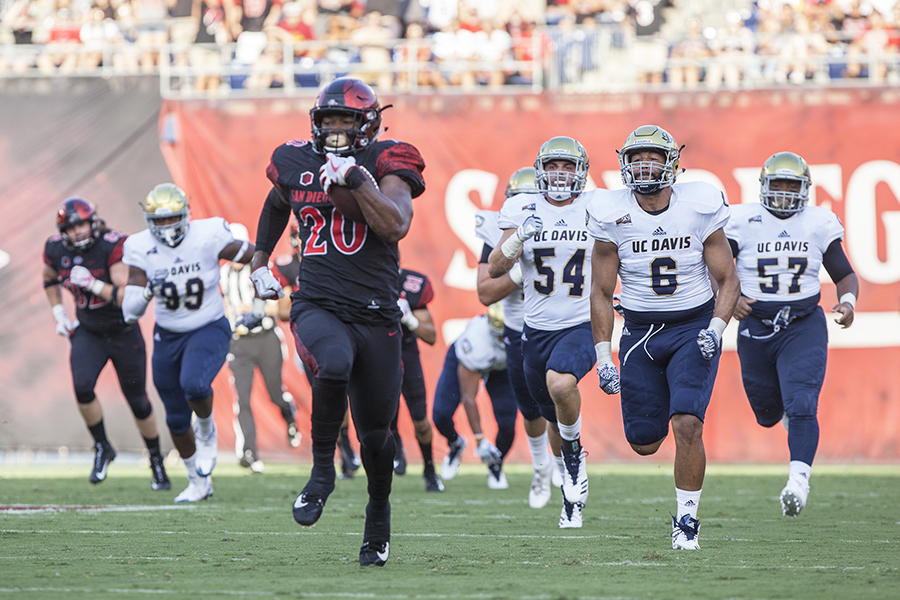 "The financial resource gap between the Power Five group and us (Group of Five) is ridiculous. Absolutely ridiculous and it gets bigger every year," Long said. "They are trying to exclude us, they are trying to eliminate us and trying to make us a different division than them is exactly what's going on. So the people who are with them are going to make sure that the non-Power Five guys don't get any recognition if they can help it."
It is true that there is a financial gap between Group of Five conference schools and schools in the Power Five – which includes the Pacific-12 Conference, Atlantic Coast Conference, Southeastern Conference, Big Ten Conference, and Big 12 Conference – the reason for the disparity is largely due to annual television contracts.
The Pac-12, for instance, has a contract with television networks Fox and ESPN worth a total of $250 million annually, a hefty amount which is in addition to other sources of television revenue, such as the Pac-12 Network.
All told, each school in the Pac-12 earned $29 million in the last fiscal year, according to the Los Angeles Times.
Big Ten schools made roughly $35 million each, while SEC schools earned $40 million apiece, according to the same report.
In contrast, the majority of schools in the Mountain West Conference, which SDSU has called home since the conference's birth in 1999, earn roughly $1 million per year from its partnership with ESPN, CBS, and AT&T Sports Net, according to a report from USA Today.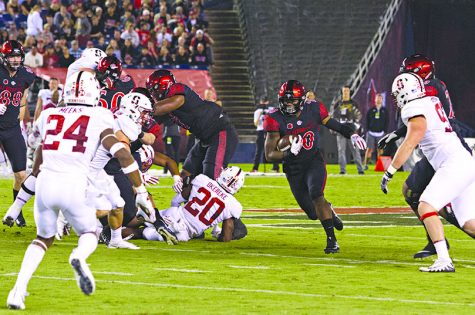 The accusations from Long are damning, but some voters said he's not completely off base.
Mark Anderson, the 2016 President of the Football Writers Association of America and a University of Nevada, Las Vegas, football and basketball beat reporter for the Las Vegas Review-Journal, is a voter who agreed with Long's initial statement but dismissed his overall claims.
"I agree largely with Rocky Long on his greater point about the separation between the Power Five and the Group of Five," Anderson wrote in an email, "but specifically with this award, those conferences don't really have anything to do with it. I think it's more the voters themselves giving the benefit of the doubt to the players from the power conferences."
Bob Asmussen, a college football columnist at the Illinois-based Champaign News-Gazette, is another voter who dismissed Long's claims.
"I appreciate Coach Long's support for his player. But I disagree with the idea that Penny was left out because he plays outside the Power 5," Asmussen wrote by email. "I cover a team in the Big Ten and I promise I looked at all of the candidates when it came to every award I voted for, regardless of their conference."
Asmussen said that he voted for Penny to be a finalist. 
"Watching Penny played a huge role in my belief that he deserved to be a finalist," Asmussen said. "It was clear he would be a star at whatever level he played." 
Shawn Harrison, the Sports Editor at the Herald Journal in Logan, Utah, also had Penny as a finalist and did not discredit Long's assertion.
"All I can say to that is it makes you wonder," Harrison wrote in an email. " I know the big schools want to keep the smaller conferences down. They throw a bone now and again like giving a spot in a New Year's Day bowl with stipulations. I would hope committee members would not be swayed by that."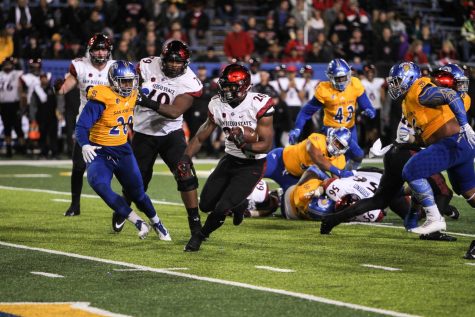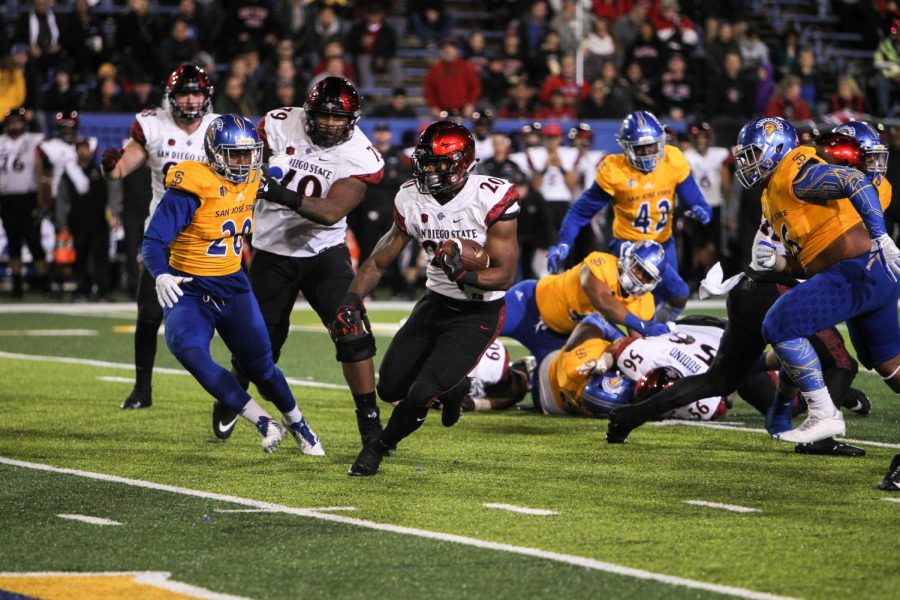 Since its inception in 1990, there has been only one Doak Walker Award winner from a school that is currently outside of the Power Five conference – Trevor Cobb, who won the award in 1991 after rushing for 1,692 yards at Rice University.
Rice now plays in Conference USA, but at the time was part of the now-defunct Southwest Conference.
This also isn't the first time that the Doak Walker Award has been in shrouded in controversy. 
Back in 1995-96, Iowa State's Troy Davis ran for two consecutive 2,000-yard seasons, the only running back in college football to ever accomplish the feat.
Davis never won the Doak Walker Award, and that was the last time Randy Peterson, a senior sports reporter at Iowa's Des Moines Register, would cast his vote.
"I haven't voted since that snub," Peterson wrote in an email.
The three finalists for the Doak Walker Award this season were all from Power Five schools and included Saquon Barkley from Penn State University,  Jonathan Taylor from the University of Wisconsin and eventual-winner Bryce Love from Stanford University.
Teddy Greenstein, a sports columnist at the Chicago Tribune, said that he did not vote for Penny to be a Doak Walker finalist, instead choosing the eventual finalists, all of whom he had seen play.
"I voted for Love, Barkley and Taylor as finalists," Greenstein wrote in an email. "For me, it's about geography and the players I get to see."
Greenstein also dismissed the notion that there was a conspiracy against players from non-Power Five schools.
"It's not like I see any of that Power 5 money!" he wrote.
The Aztecs played only one afternoon game this season, which created a challenge for potential East Coast viewers. 
But is it the responsibility of the voter to ensure they are familiar with all the players in the country?
According to Chris Korman, a reporter for USA Today who was a Doak Walker Award voter up until 2010 when he left his position at the Bloomington Herald-Times in Indiana, it isn't that simple.
"I can tell you that when I did vote for the award, I found it very difficult to make my selections," Korman wrote in an email. "My focus was almost entirely on covering the Indiana football team and giving my readers an honest and in-depth look at the game, why it went the way it did and what it meant for the program. Perhaps this is a sign of my inadequate attention span or inability to comprehend many things at once, but I barely had time to follow other college football teams, especially ones outside of the Big Ten."
Penny wrapped up his regular season with 203 yards rushing against New Mexico on Nov. 24, giving him a nation-leading total of 2,027 yards on the year and extending his school record to four straight games with 200-plus yards on the ground.
Penny could only wait and see if he would be named a finalist for the Heisman Trophy, but the running back was not holding his breath after the game.
"They're going to overlook me," Penny said. "They're going to overlook anybody in this Group of Five league."
On Dec. 4, the Heisman Trophy Trust released their final three candidates, each of whom would fly to New York to be part of the Heisman Memorial Trophy Gala on Dec. 10.
Penny, once again, did not make the cut.
SDSU offensive coordinator Jeff Horton, who had been vocal about his displeasure after the Doak Walker Award snub, once again questioned the system.
"I just want to know what the criteria is and what it's based on," Horton said. "The way I understand it is the best running back in the country according to Doak Walker and the best player in the country according to the Heisman Trophy, how he's not even a part of that is mind-boggling."
Tom Murphy, a reporter for the Arkansas Democrat-Gazette, voted for Penny to be a finalist for the Doak Walker Award but said that the level of competition Penny faced was not enough to warrant a Heisman vote.
"I was aware of Penny's statistics but only got to see him play once, briefly, in the game he got his eye poked," Murphy wrote in an email. "It's hard to project how he would have played against mostly Power 5 competition as the three Heisman finalists did but certainly he's a great player."
The issue appeared to be that Penny, who ultimately finished fifth in the Heisman vote, did not – and, realistically, could not – prove that he would have produced the same statistics had he been competing against Power Five defenses all season.
Penny did his part in the Aztecs' two games against Power Five opponents – Arizona State University and Stanford University from the Pac-12 – rushing for 216 yards and 175 yards, respectively.
Herbert Gould, a voter who describes himself as semi-retired from the Chicago Sun-Times, said the reality is that Penny was up against multiple obstacles.
"Penny had two strikes against him," Gould wrote in an email. "I believe the non-Power 5 issue was bigger than playing on the West Coast, where his games and highlights received less attention. But both were problems. It's unfortunate. But that's the way the college football world works. Power-Five players, especially Power-Five players on teams in the spotlight, have a tremendous advantage. And that is increasingly true as time goes by."
Whether it be voters who slept through Penny's season, ones who doubted the merits of his accomplishments or those who simply didn't care to know about them, above all else they were simply following the status quo.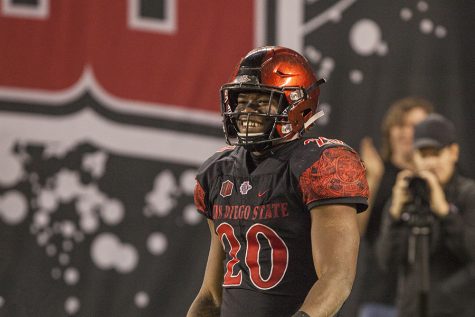 As it would turn out, however, all good things eventually come to those who wait.
Penny was selected as a First-Team All-American by nine different media outlets, as reported by SDSU's sports media relations department.
Penny was also named an FBS Consensus All-American, and was a finalist for the Walter Camp Player-of-the-Year.
Ralph Routon, a columnist for the Colorado Springs Independent, said that Penny ultimately getting recognition should somewhat make up for his earlier slights, and put to bed the idea they had been intentional.
"I think the honors Penny has earned, being first-team All American by multiple sources, should make up a bit for not being a Doak Walker finalist," Routon wrote in an email. "But I can tell you there was no organized effort to slight him specifically."
Only one game remains for Penny, with the team slated to face off against Army in the Armed Forces Bowl in Fort Worth on Dec. 23.
Penny will need to rush for 107 yards in the game to break the single-season school rushing record of 2,133 yards, set just last year by Donnel Pumphrey.
Whether that happens or not, Penny has left his mark on campus and in the school record book, and if you listen to his words after his final game at SDCCU stadium, he has already received all the recognition he would ever need.
"I got these guys. I got this coaching staff. They believe in me. They all know that I'm probably the number one back in the country. And they know I'm a Heisman winner," Penny said. "When I have these guys around me that lift me up like that, there's no reason to even think about it."
[polldaddy poll=9901775]