San Diego Women's March: 'Hear our vote!'
January 22, 2018
Exactly a year after President Donald Trump's presidential inauguration, thousands took to the streets of San Diego to voice their distaste for the current political environment and rally support for an array of social justice issues.
"Hear our vote!" chanted some of the 37,000 people who marched Saturday in the second annual Women's March in downtown San Diego.
The marchers walked in solidarity with groups across the country and around the world, in places as near as San Marcos and as far as Australia.
"I guess I'm glad that Trump is in the White House, because he reminds us of the work we need to do each and every day," state assemblymember Shirley Weber, D-San Diego, told the crowd in downtown's Waterfront Park. "The hatred and discrimination never take a vacation. We have to work 25 hours a day."
With midterm elections quickly approaching, San Diego elected officials rallied marchers for increased political participation. There were even voter registration tents set up at the park where the march began.
"Congressional seats are up for possible displacement," said Trish Hyde, an international business sophomore and the political affairs officer for Planned Parenthood Generation Action at San Diego State. "The (Democratic Party) is trying to make 2018 'The Year of the Woman' and trying to take those seats and flip the House and flip the Senate."
With both houses of Congress currently dominated by the Republican Party, Democrats are hoping to shift the majority in their favor through the upcoming midterm elections. For many supporters at the Women's March, this mission also entails electing more women to public office.
Barbara Bry, a San Diego councilmember and founder of the organization Run Women Run, said she believes more women should be running for office. Run Women Run supports and trains pro-choice women to be put in office, according to their website.
"When women run, they win," Bry said. "And, when women win, we make a huge difference for our communities. We build communities that are better for everyone."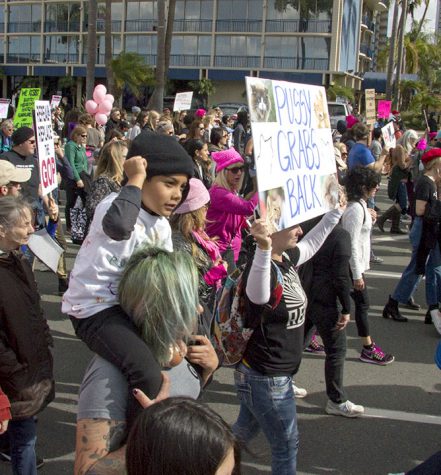 The scope of issues addressed by the Women's March went far beyond political representation. Julia Goldberg, communications junior and president of SDSU's Women's Outreach Association, said she believes the need for feminist activism is not new.
"Even if Trump wasn't in office, I think the mission of the Women's March would still be extremely relevant," Goldberg said. "These social justice issues have been in our institutions for decades and beyond."
Theatre arts sophomore and director of SDSU's production of "The Vagina Monologues" Kate Coughlin said she believes women's issues in America are more significant now than ever.
"The march is still significant because the problems have not ceased nearly as much as they need to or should have," Coughlin said. "Issues on race, class, sexuality and individuality — it's all connected. If people don't understand that, then the march is definitely needed."
Trish Hatch, a counseling professor, was one of many supporters who made their way to the women's march from SDSU. Hatch said she felt her job as a school counselor makes her a natural advocate for equality, and she has been proud of SDSU's efforts to create a supportive environment for all students.
"I think we all have work to do but I think San Diego State does a pretty darn good job," she said. "I have been there for 15 years and I feel very strongly as faculty that we very much support all of our students and San Diego State is very progressive in that way. But, it doesn't mean there's always not ways to improve."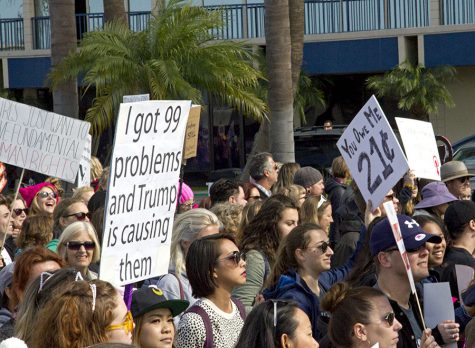 Coughlin said she is similarly proud of SDSU's proactive approach to women's issues. However, she believes a lot of these efforts have been not been shared enough with everybody on campus, and can often be limited to members of feminist organizations. Coughlin said she would like to see this change.
"SDSU has definitely been fostering a safe space for people to be addressing issues and for people to be finding community," she said. "There's a lot of really good things but unless you're part of certain clubs, you don't get emails or notifications about these things happening."
Hyde said she believes students and feminist organizations are a dominant voice for change at SDSU, and she encourages female-identifying students to seek out such organizations.
"I would say it's in the hands of the students," Hyde said. "I think it's important for all of us to join organizations that allow us to have our voices heard."
Goldberg said students who participated in the Women's March should also attend Take Back the Night on April 12, an annual campus event that addresses sexual violence issues.
She said she believes the necessary approach to women's activism can be best expressed in a quote by feminist writer Audre Lorde: "Revolution is not a one time event."