SDSU track & field hosts 40th annual Aztec Open & Invitational
San Diego State track & field completed its first home meet of the 2018 outdoor season, hosting the 40th annual Aztec Open & Invitational from March 22-24 at the Aztrack Sports Deck.
The meet welcomed in around 1,500 men and women athletes from over 40 different school across the country, including D1 schools, NAIA schools, and local community colleges and high schools.
"This is a big deal for a lot of people to come out," SDSU head coach Shelia Burrell said. "It's a lot of work, but I think that it's been a positive experience and we've got some good feedback on it."
The Aztecs competed in a total of 21 individual events during the open and invite portions of the meet, finishing with three first place finishes and 11 top-three finishes.
"We've had some ups and downs, some areas where we expected a little bit more, there's some areas where we did well, I think that's the nature of track and field," Burrell said.
SDSU's first place finishes came during the open portion of the meet, and included graduate student Tyra Lea in the 400-meter dash with a time of 56.19, junior Angela Wilson with a time of 2:15.92 in the 800-meter run, and junior Je'Neal Ainsworth, who cleared 11.77 meters in the triple jump.
Senior Bonnie Draxler also finished in first place – in the pole vault invite with a height of 4.27 meters – but was competing unattached.
Freshman Asia Smith competed in five events during the the heptathlon portion of the meet, and had three second places finishes to go with a fourth place finish.
Senior Ashley Henderson – the Mountain West Women's Indoor Track and Field Student-Athlete of the Year – said that she was not surprised by her teammates success.
"I wasn't surprised when I saw (the first place finishes) because they work hard," Henderson said. "Everybody on this team works really hard. I'm just proud that it's more and more of us able to step up and make a name for ourselves and this team."
Henderson was part of 14 seniors who were honored during a break in the meet, when a ceremony was held to recognize all of their contributions to the team.
"For me, personally, (the ceremony) meant a lot," Henderson said. "I was listening to the announcer say some of the accomplishments and things that I did, I completely forgot about some of those things. It was good and refreshing to hear that and see how far I've come."
Senior Cindy Flores was also honored during the ceremony, and was joined at the meet by both her high school (Kearny High School) and community college (Mesa Community College).  
"It's kind of like looking back at your roots," Flores said. "Literally my whole story is here competing at this one meet."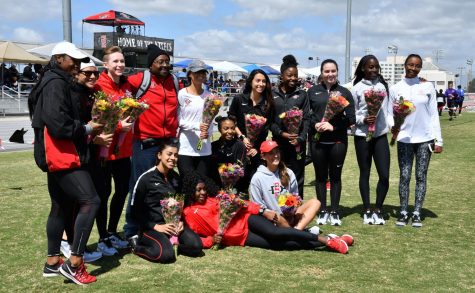 SDSU freshman Danielle Scott ran in the 800-meters during both the open and invitation portion of the meet, and said that it was an honor to have all of the different schools come together to compete on the Aztecs home track.
"I have been watching collegiate track ever since I have been in high school, and its nice to be able to be apart of it now and see all these teams that I've watched and followed forever," Scott said. "It's an honor to have them all here at our track, we're very excited and welcomed to have everybody it's great."
Among the athletes from other schools was Brigham Young University junior Jared Lorimier, who finished in first place in the men's high jump open with a height of two meters.
"(SDSU) has a great facility obviously, nice tracks, it's the perfect place to compete," Lorimier said. "The surface of the track is nice, the atmosphere, the weather's really good. I mean there are good teams that come here too."
Cal State Los Angeles senior Khallifah Rosser was another first-place winner, after breaking his own meet-record time of 49.69 in the 400-meter hurdles invite with a new time of 49.61.
"It's definitely a privilege. I understand not too many get the opportunity to compete at this invitational," Rosser said. "Some of the elite athletes at the time, to be in that conversation, to be in the heat seeded invite section, it's a blessing and it won't be taken for granted."
Next up for the Aztecs is the Jim Bush Legends Invitational in Los Angeles on March 31.