Aztecs prevail in four-set victory over Wolf Pack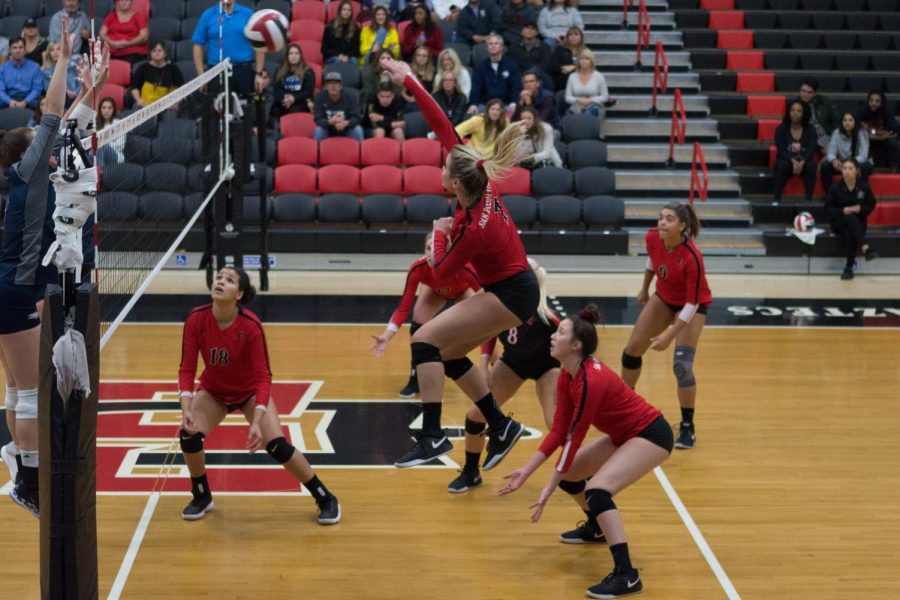 San Diego State volleyball won in four sets, 25-20, 28-30, 26-24, and 25-23 against the University of Nevada-Reno on Nov. 15 at Peterson Gym.
"We played steady against a team that plays good defense," head coach Deitre Collins-Parker said. "Our hitting numbers are good without as many balls as they dug."
The Aztecs edged out the Wolf Pack (8-20, 1-16 MW) in attack percentage throughout the match, 0.252 to 0.142.
SDSU's (10-20, 8-9 MW) attack was in full force, with four players finishing in double figures for kills and three in double figures for digs.
"I just felt good playing with my teammates." said junior outside hitter Hannah Turnlund, who recorded a double double with 23 kills and 21 digs. Both were career highs for Turnlund. In addition, she recorded 24 points, also a career high.
"Hannah played great. I thought she passed really steady; she's been somebody that we haven't always kept in the back row," Collins-Parker said. "She played really good defense..and swung well."  
Senior middle blocked Deja Harris said she noticed how well Turnlund played.
"(She played) spectacular. 23 kills, that's amazing. As an outside (hitter), they get the majority of the balls, but for her hitting high percentage is telling for her," Harris said. "I don't know if she's done that all season."
Harris had 16 kills and seven total blocks, including five block assists, which inches her closer to being the program leader in block assists during her career. She only needs two to tie and three to be the program leader with one game left.
"I tested myself with whatever I was given to just try and move the ball around as much as possible," Harris said. "Sometimes you get a low set, sometimes you get a far away set that's not where you'd want it to be, but I tried to keep the ball in…to make less errors."
Junior setter Delaney Taylor had six kills, which tied her career high, to go with four block assists.
"Delaney showed out as our setter," Harris said. "She blocked the heck out of some balls."
Two replay reviews, referee meetings and five timeouts led to a momentum decrease for the Aztecs in the second set.  
The distractions off the court were something Harris and the Aztecs didn't want to keep in their minds heading into the third set.
"It wasn't one thing that we need to fix. It was mainly the focus because of all the distractions outside of the court," Harris said. "It wasn't (anything) tactical. We all just came together, focus on the huddles after every point."
In a tide turning set three, with both teams tied at one set apiece, the Aztecs went on a 3-0 run with freshman outside hitter Maddie Lenn getting the final kill.
The youth and the depth of this team continued to show, as Lenn and freshman outside hitter Victoria O'Sullivan displayed their growth. O'Sullivan, who recorded 10 kills, had a .417 kill percentage.
"You never know when somebody is going to be on" Collins-Parker said. "You always need to have another option to go in. We've been using Maddie in the back row and (played) in the front row today and she took some good swings."
Kayla Afoa led the way for the Wolf Pack with 18 kills and four blocks.
The Aztecs will celebrate senior day on Saturday, Nov. 17 against San Jose State at Peterson Gym.