Encapsulating the short-lived, yet legendary, career of KJ Feagin at SDSU
March 20, 2020
Before a press conference, there's only one San Diego State men's basketball player who would greet the media.
It would go something like, "Hello everyone, how is everybody doing?"
Senior guard KJ Feagin would say just about those exact words with a big smile on his face — gracious for the opportunity for his voice to be heard on a regular basis.
As a leader, Feagin embraces his role as the voice of the team.
"I'm just being myself," Feagin told The Daily Aztec. "I just feel like you guys are taking time out of your day to come and hear me speak. The least I could do is greet you and feel like you know that I want you guys here, and I'm not making it seem like I'm forced to do this.
"This is something I want to do. I want to let the city know what we think and as a team. Just as a leader, I'm the spokesperson for the team, and I'll speak for everybody. I take a lot of pride in being a spokesperson, and addressing the (media) as it is every day."
Feagin has a knack for being a favorite among those around him, combined with his outgoing personality.
"Socially, I like being liked. I like being around the guys. I like to be liked. I like doing things of that nature," he said.
It's not surprising to his mother, Kimberly, that others gravitate towards her son.
"I think all of us like to be liked," she said about her son.
Kimberly added: "He's a people person. He's a happy person. He's very outgoing."
More commonly known as "Mama Feagin," she is also a fan favorite, especially among SDSU's student section, "The Show."
Mama Feagin is known for her activity on Twitter, which is a big platform for Aztec fans to show support for the team. Even XTRA 1360 radio has had her on-air multiple times.
Like mother like son, the Feagins have charisma and personalities that interest media and fans alike.
In KJ's case, he embraces the constant media attention of a nationally ranked program. It comes with the territory of being great.
"It's something I didn't really get at Santa Clara on a daily basis," KJ Feagin said, whose Broncos went 39-56 in his three seasons there. "Just having that media coverage is really good."
The media embraced the transfer from Santa Clara and vice-versa.
He was embraced by the university. He was embraced by an entire city.
They showed him love. He would show love back.
Fans would travel and watch the Aztecs play on the road, and KJ would often see a lot of SDSU fans and alumni at various airports.
KJ Feagin doesn't want to think of himself as a larger-than-life star who cannot be approached. Instead, he would take initiative and offer to take pictures with those who've traveled thousands of miles to see their Aztecs. KJ feels as if the fans are shy and don't want to bother him and the team, so he takes it upon himself to break those barriers.
"I've been trying to take that upon myself to ask like, 'Do you want to picture?," KJ Feagin said. "In the airports, they show us a lot of love, a lot of selfies, a lot of alumni reminiscing about how it was and things like that. So, it's just good that people are happy to be alumni from San Diego State. That's just a product of our play and a product of everything that the culture that we're producing."
Feagin is as genuine as they come.
He looks forward to doing interviews with the media on a regular basis and interacting with Aztec fans, often with a smile on his face.
Unsurprisingly, having unforeseen circumstances strip his chance away of having his "One Shining Moment" have devastated him — a sad turn of events that even KJ Feagin's personality can't mask.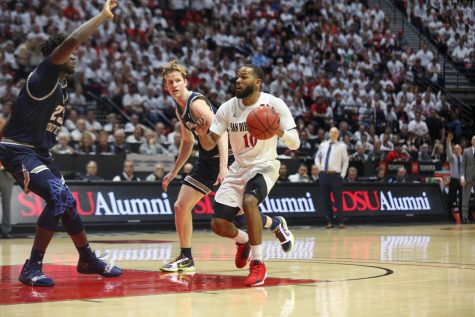 An abrupt ending to Feagin's collegiate career
SDSU was supposed to be playing in Sacramento on Friday afternoon for the first round of the NCAA Tournament.
Then, the NCAA Tournament was canceled last Thursday due to precautions to contain the coronavirus.
Obviously, the 30-2 Aztecs are devastated by the news as they are stripped of the opportunity to compete for a national championship — something that doesn't happen every year.
The stars aligned as all the pieces meshed together so well. Transfers junior guard Malachi Flynn and senior forward Yanni Wetzell seemingly blended in with veterans of the program, including juniors Jordan Schakel and Matt Mitchell.
A big part of all the pieces to the puzzle fit had to do with Feagin sacrificing a big part of his game.
The Mountain West All-Defensive Team selection was supposed to wait for the words "San Diego State" to be uttered on CBS for Selection Sunday on March 15.
That never happened, and the one who might've been the most devastated was the one who sacrificed a big part of his game with the sole intention of winning.
"Everybody knows KJ wears his emotions on his sleeve," said Aztecs head coach Brian Dutcher who met individually with his players the morning after news broke last Thursday that the NCAA Tournament was canceled. "Obviously, he would have liked to have that but was grateful for all the experiences he had. It was less about what he did have than what he didn't have."
A week later, that might still be the hardest pill the 22-year-old has had to swallow, and Feagin is not afraid to show it based on a number of social media posts proclaiming his disappointment and sadness.
The Daily Aztec reached Feagin through the phone Monday, and his emotions were apparent through his somber tone.
Feagin, looking through the season's memories filled with joy and a whole lot of winning, said he goes through his camera roll every day in disbelief his college career is over.
"I've been alright," he said with a sigh. "It is what it is, man — something I just got to accept and move on from. I think that's the only option at this point."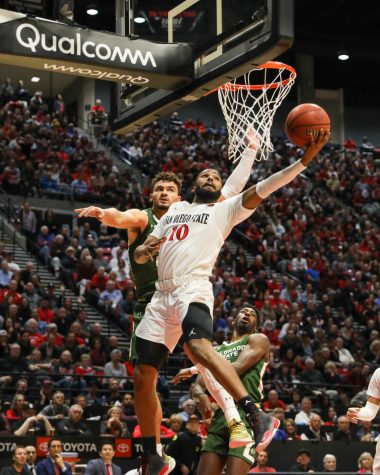 From Santa Clara to the national spotlight on the Mesa
Feagin's journey to SDSU all started when he and his family took their official visit on Feb. 20, 2019.
The Aztecs were playing the No. 6 ranked team in the nation in Nevada, and Viejas was at its best all year.
It was a sold-out crowd that was followed by a court storming after the Aztecs upset the Wolf Pack 65-57.
A year later, Feagin played in front of a crowd like that seemingly on a nightly basis.
"It was almost a year ago when I took my visit here, and the crowd was just like that when (SDSU) upset Nevada last year," he said. "It's just about everything coming full circle for me. Last year I was a spectator, but now I'm a part of something that's bringing this crowd (to life). Like I told the team before, this is all a product of our good work. They're all here to see us put on a show. Like I always say, I know I sound like a broken drum, but it's just special to be part of something like this. I'm going to value it every day, and I'm just thankful."
To come to SDSU, Feagin had to sacrifice as much as any player on the team.
After averaging double-digits (as much as 17.5 points his junior year) in three seasons at Santa Clara, Feagin's scoring total dipped down to 9.1 points per game.
But he won nearly as many games as he did in one season at SDSU than he did in three in a Bronco uniform.
Feagin enjoyed 30 wins as an Aztec, but his teams at Santa Clara combined to win 39 games in three seasons and never reached the NCAA Tournament.
One thing Feagin did not sacrifice was his leadership. Even as a newcomer to the program, he was a voice in the locker room.
"It was a very big factor," junior forward Matt Mitchell said of Feagin's leadership after the team's 30th victory of the season in a win over Boise State in the conference semifinal. "He was a leader, vocal. He showed it as well. So that's what he's done all year. That's nothing new to us … I'm just happy to have him on the team."
Kimberly Feagin said, "I've seen him, through his college years and this year especially, my son grow from a boy to a man. And to a man who is a leader. I believe my son was born a leader, a natural-born leader.
"He's also a team player, and he knows when he needs to be more upfront or when to take a step back. That's what a leader is all about."
Though an integral part of a 30-2 Aztec team that might be remembered as the greatest season in program history was cut short, Feagin remains "grateful," according to Dutcher.
Grateful hoisting a trophy after winning the Las Vegas Invitational back in November.
Grateful for being able to cut down the nets after clinching the Mountain West regular-season title with four games to go.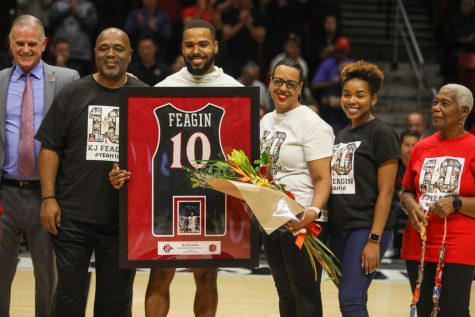 A chance to play close to home
Feagin's hometown of Carson, California is 112 miles away from San Diego – about a two-hour drive.
That beats the 361 miles, or six hours, his family would have to drive to Santa Clara.
During his days playing in the West Coast Conference, Feagin's now-deceased grandma was only able to watch him twice a year when Santa Clara went on the road at LMU and Pepperdine.
This season, it was much more convenient for Feagin's family to watch him play. It was one of the reasons Feagin decided to transfer to SDSU.
Every off day Feagin gets, he'll make that two-hour drive to see his family because it's who he likes to be around.
"I'm a big, big, big, big family guy," Feagin said. "Just having this opportunity presented to me was just a blessing in disguise because being away from home, all I longed for was wanting to be by home. So to get the basketball position that I wanted, along with, you know, a great spot in being a San Diego. There's nothing else I could've asked for."
During the transfer process, Kimberly Feagin did not want to pressure her son into making decisions solely on family. She wanted him to make the decision that would be best for him and his career — though she knew how important family was to her son.
KJ ended up with the best of both worlds.
KJ was able to have his mom watch him drop a season-high 23 points against Boise State on Jan. 12.
KJ was able to win a championship and cut down nets — all for his family to see.
"To see him step up on that ladder and cut that net, it was everything that a parent could hope for in their child," Kimberly Feagin said.
"It was all worth it."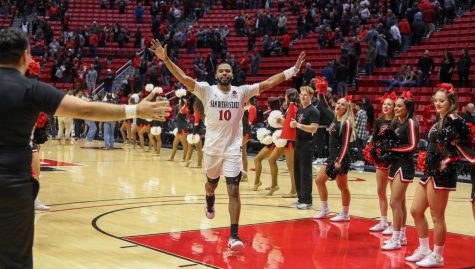 The feeling of winning from his days at Long Beach Poly comes back at SDSU
Long Beach Poly High School has a tradition of athletic excellence across all sports, not just basketball.
Notable alumni include Tony Gwynn, NFL Pro Bowlers DeSean Jackson and JuJu Smith-Schuster, 2018 NBA champion Jordan Bell and 2008 World Series champion Chase Utley.
During Feagin's four seasons on the varsity team, his teams went a combined 109-20. Though he never won a state title, the Jackrabbits won 84% of their games. He was teammates with Bell for two seasons until Bell moved on to Oregon and won Pac-12 Defensive Player of the Year honors along with a trip to the Final Four in 2017.
At Santa Clara, Feagin won well under half of his games.
In his one season at SDSU, Feagin was surrounded by a supporting cast who helped him win all but two games.
Feagin returned to the feeling of winning during his high school days — in a similar style too.
Long Beach Poly's program was centered around defense, much like the Aztecs'.
"Going to Poly, they really hung your head on defense, and that's just something I know it's just ingrained in my mind,'' Feagin said. "I just think that coming from Poly and to San Diego State, it was just a lot of similarities and a lot of things that couldn't turn down.''
Even Feagin's mother saw similarities between SDSU and Long Beach Poly: winning and defense.
"Maybe close to the 10th game, somewhere in there, I tweeted. I said, 'This brings back all the feels I had during the Poly days because they were winners," Kimberly Feagin said. "They came in handling business. Poly was all about defense first: defense, defense, defense."
Though Feagin took a step back offensively at SDSU, he kept his defensive intensity and was often on the opposing team's best perimeter player.
Feagin would end up on the Mountain West All-Defensive Team.
Though Aztecs junior guard Malachi Flynn won MWC Defensive Player of the Year, many of his teammates — even Flynn himself — would say Feagin deserved that honor.
Feagin's teammates like him. They gravitate towards him. They listen to him. He is their leader.
For those who don't know Feagin personally, his encounters with the media and the smile you see on the basketball court might give you a glimpse of why that is so.