We all know the classic fairy tales. Centuries-old stories where the heroes always prevail and the cruel villains meet their rightful end. Rapunzel cascading down her blonde locks to get a glimpse of the outside world, Little Red Riding Hood strutting through the forest to her grandmother's house and Goldilocks being the single worst uninvited house guest ever. Many of these tales taken from the extensive Brothers Grimm collection have come to life on screens big and small throughout the past century, often leaving out the gory, darker elements of the storybook. 
As the 20th anniversary of "Shrek" rolls around on May 18, it inexplicably stands as the most popular animated movie of the millennium and a rejection of conventional fairy tale wisdom. 
For those unfamiliar with the concept of "Shrek," the film's backdrop is Duloc, an old-fashioned village that's equal parts Disneyland romanticism and Medieval Times. It's a city-state within the land of Far Far Away, a contemporary-looking kingdom embodying the style of Hollywood Blvd.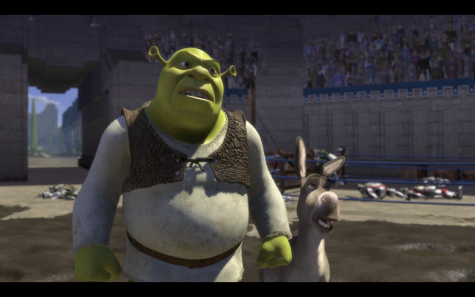 The premise is centered around the title character, a grumpy, green ogre who is unexpectedly thrust from a solitary life at his swamp into an epic journey. Shrek (Mike Myers) is tasked with saving Princess Fiona (Cameron Diaz), a royal waiting to be saved by her Prince Charming, from a distant tower and delivering her to the conniving Lord Farquaad (John Lithgow), a man who's miniature in height and brutally evil. On this adventure, Shrek is accompanied by his annoyingly talkative best friend Donkey (Eddie Murphy), a fiercely loyal sidekick whom Shrek eventually learns to appreciate. Thematically, it's a story of love, friendship and self-acceptance that pits Shrek against his greatest displeasures and allows him to challenge his destiny. 
The remaining cast is made up of anthropomorphic fairy tale characters ostracized by the settlement's terrified human occupants. Familiar faces like Pinocchio, The Gingerbread Man and the Three Little Pigs all appear as goofier versions of their fabled depictions. 
Though Shrek's story first gained meaningful attention in theaters, its origins can be traced back to William Steig's simplistic and slightly creepy picture book "Shrek!" This graphic fantasy laid much of the foundation for the film's plot and instantly separated itself from other fictional lore by portraying an "ugly" outcast as a brave hero, rather than a monstrous creature. After the book rights were optioned by Steven Spielberg in 1991, the movie spent a decade in development hell, and eventually landed at the (then) newly-founded DreamWorks Animation.  
Finally entering theaters in 2001, "Shrek" emerged as a viable competitor for Pixar's overwhelmingly popular "Toy Story" films. It single-handedly revitalized the fairy tale parody sub-genre, something that "The Princess Bride" and "Jack the Giantkiller" made popular by poking fun at their mythical source material. Various consequent CGI-animated ("Hoodwinked!" and "Chicken Little") and live-action flicks ("Enchanted" and "Into the Woods") drew direct inspiration from "Shrek," each complete with their own creative takes on classic literature.
Its massive box office presence inspired three sequels, two television specials and a spinoff focusing on the cuddly and charismatic assassin Puss in Boots (Antonio Banderas), helping it become the second-highest-grossing animated film franchise ever. Further, a Tony Award-nominated Broadway musical and several video games based on the movies only extended their mythos.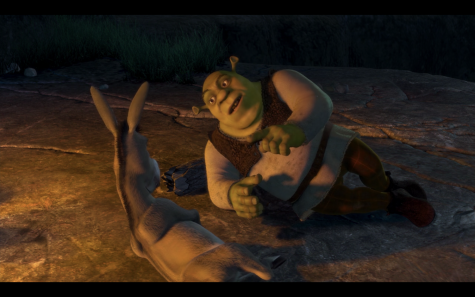 The long-lasting celebrity of "Shrek" expands further than any modern media entry, and into a realm that can't be characterized by its monetary success or the number of toys it sold in Happy Meals. It's made a lasting cultural impact, leaving behind a trail of breadcrumbs that encourages viewers to become immersed in the series time and time again as if they are sinking into the pages of their favorite bedtime story.    
Political science and history senior Chrystian Smith says that "Shrek" serves as a refuge from reality, and is something that's consistently amusing and satisfying. Smith believes that Shrek's theme encompasses how opening up to the world makes you vulnerable while transforming your life for the better. The way "Shrek" immerses itself in the real world is both surreal and unique which has left a lasting impression on Generation Z. 
"I think Shrek is still popular after all these years because it's a break from realism and encourages the viewer to delight in its irrationality," Smith said. "I think Shrek really helps elevate some of this generation's commitment to dadaism."
To education and English graduate student Maricris Oreas, "Shrek" represents togetherness and universal inclusion through its dialogue, cinematic score and diverse selection of characters. Oreas and her family associate the films with infinite positivity and their love for Shrek has grown into an essential family trait since the first release. 
"Sure it's viewed by many as a parody film, but it reaches extensively beyond mimicking fairytale stereotypes – it offers a look past those things we laugh at, and applies that understanding of life into our own personal lives. It gives the world something to talk about, relate to, and connect over," Oreas said.
From the first reveal of the title, the film positions Shrek as a natural underdog. Someone who has resigned himself to a life of loneliness despite his empathetic personality traits. Building a movie on such a surprisingly layered (like an onion) character challenges the harmful perception of beauty and class that determines who is deserving of a happily ever after in fiction. By denouncing the status quo, the filmmakers built Shrek a fascinating and inspiring character arc that's still exceptionally relevant. 
Besides Shrek, the progressive depiction of Princess Fiona is one of the most well-rounded when it comes to crafting a genuine personality for a sovereign character. "Shrek" easily could've rehashed the same sexist tropes as "The Little Mermaid" and many other Disney classics that equate being a princess to good looks, subordination and marriage. However, beyond Fiona's predetermined fate as a future queen, audiences see her achieve a state of independence for the first time in her life. She whips out martial arts moves and beats up bandits in a "Matrix"-inspired fight sequence, hunts wild animals with her bare hands and gets the chance to love for her own interests, not as her parents mapped out. It's the exact opposite of what's expected from a "proper" princess, and Fiona's free-spirited charm guides her away from the average storybook fate.
Similar to how episodes of "SpongeBob SquarePants" are packed with mature jokes that young viewers don't initially understand, Shrek's humor gets better as time goes on. It's a rare movie where the pop culture references stay evergreen and every hilarious gag is quotable. Even the most sporadic moviegoers would probably be able to place "do you know the muffin man?" or "what are you doing in my swamp?" correctly in the "Shrek" catalog. Plus Farquaad's apathetic one-liners like "Some of you may die, but it's a sacrifice that I am willing to make," have gained additional meaning during America's COVID-19 response. 
Oreas admires how extensively "Shrek" makes fun of fairy tales in general, most notably Disney's princess movies. More impressively, she notes how the movie's tone is weighted effectively so that everyone who watches clearly understands their motives without the content being overly rude or disrespectful.  
"Though the references can be indirect and minuscule at times, they're all easily noticeable and agreeable by the audience – enunciating the overarching theme and universal meaning of togetherness and unity," Oreas said. 
Outside of the jokes, one of the most memorable aspects of the film is its music. "Shrek" is soundtracked by a killer 2x platinum album made legendary through a pair of Smash Mouth hits ("All Star" and "I'm A Believer"), and Smith says these immortal tunes have even carried over into her family outings.
"I clung to the soundtrack of Shrek and once played it as the family road trip music," Smith said. 
As with many children's movies, "Shrek" is a film that holds a special place in the hearts and minds of countless spectators. It represents a shared experience that's deeply rooted in nostalgia, comfort and delight that invites people to watch on an annual basis.
SDSU alumni and current CBS 8 News producer Jack Molmud recalls how seeing "Shrek" in theaters was an essential moment in his childhood and one of the only memories he has of living in the town of Pacific Grove. Amidst uncertainty after his parents' divorce, a "Shrek" DVD certified itself in his adolescence and followed him as he went through visits to his grandparents' house, various hotel trips and aimless times of boredom. 
"It's literally everything from my childhood. Shrek is in the background of almost all my childhood memories," Molmud said. 
After being celebrated in almost any other way imaginable, the "Shrek" films have received a major boost of relevancy from the internet. By far the largest contribution to its cult-like obsession is the rabid online fandom for "Shrek," an appreciation that truly encapsulates the weird sincerity held towards random figures on the internet. Beginning with sparse but passionate internet posts around the 2010 release of "Shrek Forever After," Shrek's popularity quickly developed into a confusing and hypnotic subculture packed with disturbing amounts of in-jokes, memes and fan fiction.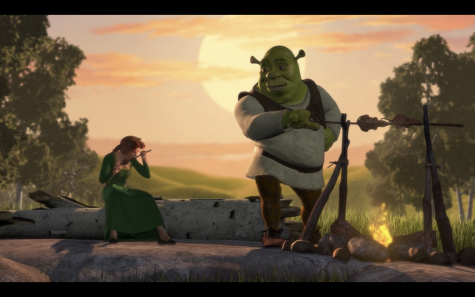 From 2012 to 2014, a 4Chan-style messageboard aptly named ShrekChan was operated and gave Shrek fans, aka "brogres," the chance to showcase their appreciation for all things "Shrek." The trivia and folklore are run so deep that there are endless ironic gags only someone deeply in tune with the "Shrek" universe would know anything about. A few earmarks of intense "Shrek" devotion includes never-ending Smash Mouth acknowledgment and spanning into deeper and darker content like the infamous meta meme video "Shrek is Love, Shrek is Life," which resorted Shrek gratitude to grotesque shock value.  
It's clear that "Shrek" still holds a significant influence spanning the age of social media, maybe even too much of an influence. But it's easy to see why.
"Shrek" doesn't talk down to its child-centered audience (nor the adults who tagged along to see it) and instead encourages them to think outside the box and challenge prejudiced concepts in fantasy. Oreas says the unexpected happiness it provides to the audience suggests and inspires hope to both the helpless and the hopeful, making it a work of art that can affect anyone regardless of age.
"The Shrek franchise has touched on topics that have been so relatable to society throughout time … from its addressed topics of fitting in, deserving love from and for others, as well as for oneself," Oreas said.