When the unmistakable beats of Olivia Rodrigo's "Good for You," Fall Out Boy's "My Songs Know What You Did in the Dark" and "Uma Thurman" fill the air at Snapdragon Stadium, you can be sure the San Diego State University's Marching Aztecs are making the scene.
Established in 1946 as a 40-piece ensemble, the Marching Aztecs have evolved into one of the West Coast's premier bands. Beyond playing the beat, they're reshaping college band traditions, striving to create memorable moments — each infused with SDSU spirit — every game day.
Jade Smith, Marching Aztecs band manager and junior criminal justice major, spoke about the evolution of the band's dynamic.
"Since I've been manager, each section has grown from being isolated to becoming more unified," Smith said. "We've broken the cliché and fostered more interaction among members, improving the band dynamic significantly."
Bryan Ransom, SDSU alum and Athletic Bands director, relishes mentoring students in the Marching Aztecs. Each season presents a challenge to recruit up to 100 new members who must learn the band's style and repertoire quickly. 
Ransom is confident the Marching Aztecs will rise to the task in the upcoming year, even with the added pressure of three home games during the first weeks of the fall 2023 semester.
The Marching Aztecs, known for their internal unity, also play an active role in community engagement.
"When I was a freshman in high school, we used to have 'band night,' where many different high school bands would come together. While I remember it being at a different stadium, we're aiming to bring that back," Smith said. "Ever since Snapdragon Stadium opened, we've done a lot of gigs associated with it; its opening was a big event for us."
Smith also emphasized the Marching Aztecs' inclusivity, noting that the band welcomes anyone regardless of musical background.
"We always welcome people with any level of experience to join our marching band," Smith said. "That's a key reason why we're such a lively group. We can include anyone, and yet (band members) still manage to deliver their best performance."
The emphasis on inclusivity within the Marching Aztecs fosters a continually evolving, diverse group. This adaptability is boosted by the ongoing introduction of fresh talent.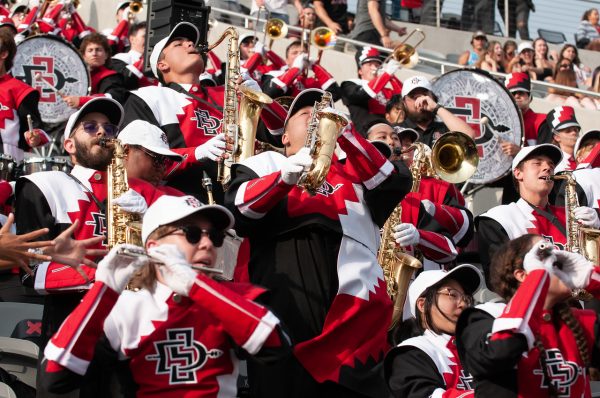 Jay Hibbs, an SDSU philosophy graduate and current drum major, discussed the band's response to change and new members.
"In terms of performance, we've kind of been forced to evolve more," Hibbs said, attributing this evolution to the band's need for constant adaptability, driven by the introduction of new talents each season.
The adaptations of the Marching Aztecs extend beyond performance style, as Hibbs spoke about the members' dedication to engaging with audiences at a deeper level.
"We want people to be engrossed with what we do, (and) we don't want people to just observe," Hibbs said.
Hibbs also spoke about the band's commitment to offering an immersive experience to its members, consisting of weekly practice for six hours  — which members consider essential for refining their performances.
The Marching Aztecs differentiate themselves not only through their music but also through their unique approach. Their emphasis on fun and camaraderie generates engaging performances.
Kinsey Claudino, a junior music business major who plays the trombone, spoke about the differences between the Marching Aztecs and the more rigid, audition-based ensembles like other universities.
"We're frequently labeled a 'party band' due to our informal atmosphere," Claudino said. "Our band — primarily consisting of non-music majors — focuses on fun and social interaction, leading to a more entertaining experience."
Facing challenges like performing outdoors in varying weather conditions, the Marching Aztecs remain determined, driven by their dedication to music and fueled by audience support.
"We truly appreciate when people come out to support us at our events," Claudino said. "Performing outdoors — particularly in the heat — requires a lot of time and effort, and it's the sense of being appreciated that rewards us and inspires us to persist."
The Marching Aztecs' vibrant performances resonate beyond Snapdragon Stadium, personifying unity and shaping SDSU into an impressive hub of community spirit. They indeed "march to the beat" of creating an exciting and engaging atmosphere that encapsulates SDSU.
For more on the Marching Aztecs and their ongoing journey, visit their Instagram or the band's official SDSU website.