When the trailer first dropped for "Blue Beetle," I couldn't stop smiling from ear to ear. 
As someone who is Mexican and a lifelong comic book fan, I was excited to see that DC Comics (one of the industry's giants) had decided to feature a Latino character as the main superhero in its newest live-action film. 
This past year — while there has been Latino representation in superhero movies such as Namor in "Black Panther" and Miles Morales of "Spider-Man: Into the Spider-Verse" — it hasn't accomplished much for the Latino community as characters such as these are given secondary roles compared to their white counterparts.
Blue Beetle, while he can only be best described as a "C- list character," has been part of DC's earliest lineup, making his debut in 1939 just a few months after Batman and preceding even Wonder Woman's creation. 
Blue Beetle has changed through the course of DC's history, featuring three different characters leading up to the new comic book character, Jaime Reyes. All three protagonists have found Khaji-Da  (the alien scarab) that bonds to its wearers to give them a variety of alien weapons and powerful alien armor.
With Jaime Reyes as a standalone hero, this had the potential to be the best representation we have yet seen as a community. This alone was enough to make me venture back to the DC Universe.
As I got to the theater, I immediately noticed that the people who were waiting anxiously in line to enter were not limited to the average teenage crowd. Instead the line was filled with Hispanic families — all enthusiastic to see the film. Moviegoers also couldn't resist wearing the free "Blue Beetle" shirts they received with such pride.  
The pride of fans then carried its way to the big screen, and it was a phenomenal experience seeing a main character created with culture as consideration first and foremost.
It was evident that Puerto Rican Director Angel Manuel Soto developed this movie from a first-person perspective. The playlist showcased in this movie had fans humming along, with recalling their memories of Sunday mornings or family parties.
The Reyes house was a familiar presence to relate to as viewers could recognize the textiles and furniture used. Each member of Jaime's family had such an intentional role in his life as well. While each character had such different outlooks on their circumstances and overall different personalities, Jaime's bond with each one of them was undeniable. 
A key part of the trailer is when Jaime says "My family, that's what makes me strong." Initially, as a viewer, it had me worried that the writing would come off cheesy when it came to developing the Reyes family.
After watching "Blue Beetle," I can truly say the Reyes family was the heart of this movie and there was so much time spent showing the audience Jaime's upbringing and how it developed him to becoming a superhero.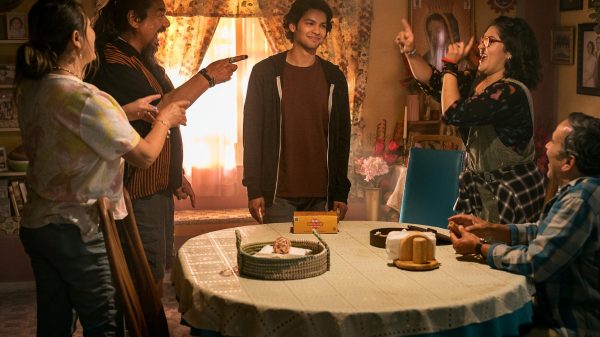 Since the beginning, Jaime's family has been involved in his transformation to Blue Beetle every step of the way. For example, his grandmother becomes a warrior and the matriarch of the family, his father inspires him with his lived experiences and even his strange conspiracy theorist uncle (that every Latino family jokes about) found a way to offer his talents.
We learn so much from the support Jaime has from his family but also about why they are so strong. The optimism and confidence in their survival they carry is from their experiences as immigrants who never back down.
Jaime himself is also someone many San Diego State University students can look to for representation. He is a first-generation college student who is excited for the future but stuck by his family obligations and the limitations of his financial situation.
As a new graduate with no job prospects, Jaime takes a job as a house cleaner at the main antagonist's home, Victoria Kord, who is the CEO of Kord Industries, which seeks to weaponize the scarab.
In this movie, we see a villain that plays with the terror of the real world: gentrification of the low-income community Jaime and his family lives at by the hands of a mass corporation. 
Victoria Kord reached a new level of complexity not seen yet by villains in this genre. The audience was shocked to see a villain that dealt with realism, treating the employees around her as disposable and openly saying microaggressions and racist remarks throughout the movie. However, with the intersecting identities considered it makes sense to challenge the idea of what happens when it's already hard to be a superhero, but there's a person of color under the mask?
The movie was so unexpectedly intent on showing the Latino community and its heartbreaks. 
"Blue Beetle" had fans clapping and crying with repeated themes of perseverance as a necessity as Jaime and his family took action in their real-life problems, while simultaneously helping him fight the Kord Industries' biotech soldiers. Because when you can survive being an immigrant every day in a country that doesn't want you, nothing is unfathomable.
I truly hope to see DC continue with the "Blue Beetle" franchise and continue to prioritize the human before the hero.
Instead of proving his power on screen by battling countless villains or saving the planet, "Blue Beetle" makes an impression by doing all this while tackling common day issues — such as gentrification or the immigrant experience — and how these issues can stump not only average citizens but even superheroes, like Jaime Reyes.