Navigating the challenges of the business world can be daunting for women, especially young women who often face additional barriers and biases in college.
With a mission to empower and support women pursuing careers in business, San Diego State University's Women in Business Club — also known as WIB — has become a force for inclusivity, intersectionality and leadership development.
This club is not just a student organization: it's a powerful catalyst for change. Through a combination of informed initiatives and passionate engagement, it is reshaping the landscape of business education by turning potential into reality. WIB is making SDSU a place where women in business can make a difference.
Kayla Cunanan and Talia Manzanares, co-presidents of WIB this year, believe that this organization has a role in changing the narrative of typical clubs on campus, with just over 600 students applying for WIB membership this year.
"This can start the conversation that we need more women-focused programming and opportunities on campus and the demand is just insane," Cunanan said. "I wish I had a better word than 'insane,' but that's truly what it is. I can feel our impact, and I hope other students can."
Manzanares calls WIB a sisterhood because of how members have become roommates, best friends and even coworkers. It is a professional atmosphere, but it is also a community of like-minded young women.
"When debriefing our last meeting with our guest speaker, she best described our organization: 'This club felt like a cozy sleepover with your smartest best friends, all 400 of them.' If our efforts have had one member feel inspired, one friendship formed and one successful job interview — our work is impacting," Manzanares said.
Natalie Millsap, a junior majoring in business, found herself at a crossroads with her major, unsure of her path. However, her perspective shifted significantly upon her recent enrollment in WIB. As Milsap reflects on her decision to join, she noted that she was seeking a community of individuals who shared her ambitions and could motivate her to excel.
"The advantages of a WIB membership are immeasurable," Millsap said. "The club fosters a culture of ensuring every voice is heard, and I am eagerly anticipating the opportunities and growth that are ahead of me."
WIB has also been working to address these issues on a broader scale.
Holly McKay, who currently holds the International Relationships position, was eager to share how the club has collaborated with the Fowler College of Business and other communities at SDSU to reach as many people as possible.
"WIB has dedicated an entire position to ensure communication with other clubs on campus and set up collaborations; that's essentially my job," McKay said. "Every aspect and corner of the SDSU community is involved."
One of the most notable ways WIB is providing young women access to industry professionals is through the annual Women in Leadership Conference. The two organizations have created a partnership to bring the conference to fruition each year. They contribute through the ideas of guest speakers and topics, as well as promoting the event to their members.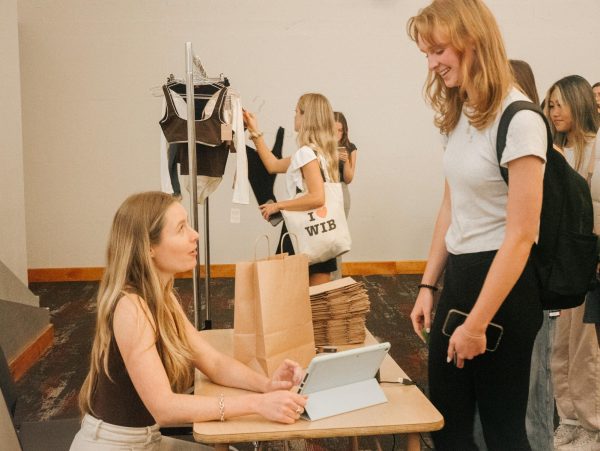 "We are grateful to have a strong relationship with the Fowler College of Business, which we try to promote to our members — using the resources they provide to business students," Cunanan said.
Martina Musteen, a professor at the Fowler College of Business, is a strong believer in diversity being an asset for businesses and individuals alike.
"Diversity of backgrounds, thoughts, perspectives and, of course, gender, can provide extraordinary benefits to companies. However, it needs to be carefully nurtured and supported through thoughtful actions and policies," Musteen said. "I believe that the mission of the SDSU Women in Business Club speaks to that notion and that the Club plays an important role in helping our female students prepare for their careers."
Self-care, intersectionality, scholarship, empowerment and resilience are the standards that have made WIB a formidable force in the business and education world. These core values define the club's essence and keep its mission aligned.
On WIB's original podcast, *Business Baddies, Nita Umashankar, a professor of marketing research at SDSU and faculty advisor of the club, offered valuable advice applicable to any young women facing issues in the business world in the future.
"I don't think as women, we realize our strengths enough," Umashankar said. "Life can take a lot from women, but it can never take your education."