People don't like to talk about poop. As a representation of all things atrocious about society, feces is synonymous with a bad time, a horrible person, uncooperative technology and more. 
For Lilith (Lily) Astete Vasquez, an environmental engineering doctoral student, affectionately known as "The Poop Queen," waste is a source of fascination and innovation. 
In the world of waste, Astete Vasquez seeks to harness the power of poop and the systems that treat it. For five years, her research centered on toilets and how improving those systems could reduce water usage, increase accessibility or even power a small appliance. 
The inspiration came in the '90s when Natalie Mladenov, an environmental engineering professor, needed to use the bathroom in Botswana. She did her business in a hole that flushed without any pipes, water or a bad smell. Mladenov held onto that inspiration until the right student came along. 
Astete Vasquez was invigorated with the idea. Her research aims to help communities that are limited in access to regulated sanitation facilities.
"They're really outdated systems that are failing a lot of people around the world. And we just continue to use them over and over and over again, without thinking about, 'How can they be improved?'" Astete Vasquez said.
Mladenov said she's proud of Astete Vasquez's devotion to change.
"(Astete Vasquez) took an idea that was in its infancy and really brought it to another level," Mladenov said. 
Determined to bring about change, Astete Vasquez is pursuing a Ph.D. in order to reimagine waste treatment. 
Her research subjects? None other than her three canine companions: Taco, Canyon and Peach — whose digestive systems closely resemble humans. Providing a healthy and controlled diet, she uses their test samples to mimic human waste.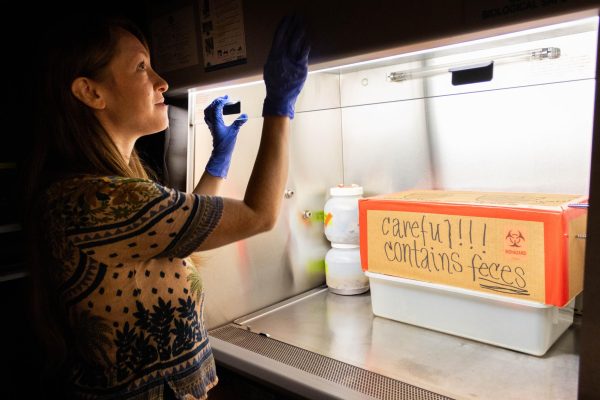 While innovations in waste management typically focus on treating water after it's flushed, Astete Vasquez wanted to develop a method to treat it before it reaches the sewer system. This method offers more solutions for unhoused communities or those living in developing nations.
"When we are not working to improve those systems, their neglect continues. So we are never going to close the gap to get them to our standard of living if we are not trying to make subtle small improvements to those systems," Astete Vasquez said. "It stinks, too, because it's something that we urgently need, but there are no immediate solutions to it."
Her most recent study offers a glimmer of hope. By mixing waste, Astete Vasquez discovered an effective method to help degrade organic material. Now, she wants to take it further.
Astete Vasquez is studying the rate at which household pharmaceutical waste breaks down when mixed and even what kind of bacteria is in the waste and what they do.
In her test tank that had feces without urine, there were signs of potential production of a biogas called Methane. Astete Vasquez said that it's possible for biogas to power a small stove. 
With so much more to investigate, she hopes to implement these solutions in countries lacking adequate waste treatment. 
Megan Welsh Carroll, an associate professor, brainstormed with Mladenov and Astete Vasquez on ways their research could help unhoused individuals in San Diego. 
"Lily's work is so inspiring because it's really driven by the needs of the local communities, and I think that sets her apart," Carroll said.
However, Astete Vasquez's biggest discovery was her love for teaching others the importance of environmental science. 
"I am so passionate about my work that I like want to infect people with (that passion) and bring the next generation of environmental engineers into the workforce actually caring about what they do," Astete Vasquez said. "If I can touch the hearts of a few then I know I've done (my) part."