Winners ready for next year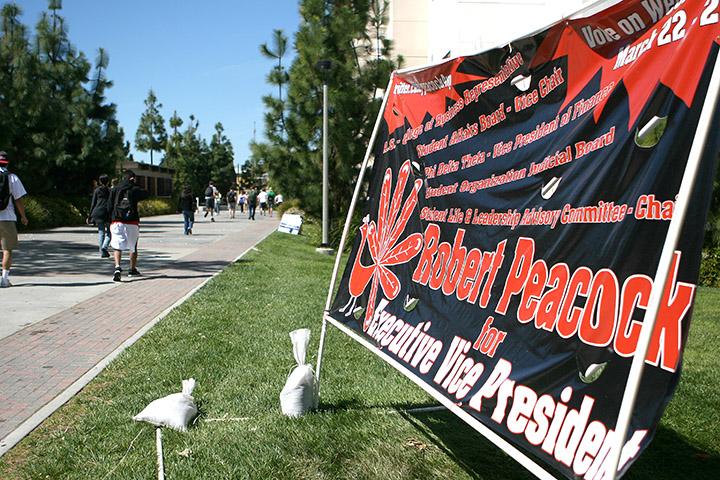 Kallie Larsen / Staff Photographer
Students visited WebPortal two weeks ago to vote for their favorite Associated Students candidates and the results came without much surprise.
Four of the five executive positions ran unopposed and numerous council seats were left empty.
The results for A.S. executive positions are as follows: Grant Mack for A.S. President, Sean Kashanchi for A.S. Executive Vice President, Laura Schofield for A.S. Vice President of External Affairs, Amanda Pascoe for A.S. Vice President of Finance, and Candice Luistro for A.S. Vice President of University Affairs.
"One of the biggest goals for next year is university accountability and holding the school responsible," Mack said. "I'm going to be pushing for many sustainable actions and restructuring A.S. so that it is more efficient. Right now we have a committee set up for restructuring."
The new executive officers would like to expand A.S. next year and motivate more students to become involved.
"My biggest goal is to create more leaders on campus," Kashanchi said. "The lack of motivation to get involved on campus was seen in this election. People either don't want to get involved or don't know how."
Despite the significant shortage in candidacy, a significant number of write-in candidates appeared from the woodwork.
According to Schofield, the number of write-in candidates in this year's election greatly exceeded elections in the past.
"There are a couple of shortages (in representatives), but that happens every year," Schofield said. "We will be a full functioning council."
Mack took the A.S. presidential position with 99.6 percent of the vote in his favor. The remaining .4 percent of the vote went to write-in candidate Jeremy Katz. Kashanchi succeeded with 49.3 percent of the vote. He defeated Michael Toubi and Robert Peacock in the competition for the A.S. executive vice presidential spot, the only contested executive position in this year's election.
"I thought there was a really high competition level," Kashanchi said. "I have a high level of respect for each of them. It was a clean race and no major complaints were filed."
Because of the number of complaints and concerns raised during last year's election, extra precautions were made to keep ethics and rule violations under control. An appeals panel was created to resolve any disputes that may have risen, although that was not needed this year because of the lack in candidacy.
The new A.S. executive officers are already planning for next year. According to Mack, nothing has been set in stone, but new ideas have been discussed. He hopes to have a plan for next year together before the end of this semester.
"I have a couple of goals, first and foremost the budget crisis," Schofield said. "I have been fighting it. I will help plan rallies and make sure that the legislature knows that we are not going away."
Schofield has been working to get the San Diego State Students Act of 2010 passed, which will open an option on statewide tax returns for a $5 to $10 dollar donation toward the Educational Opportunity Program at SDSU. Schofield and Kashanchi have also been collaborating to make a calendar for next year.
"We have been facilitating it and have created meetings for it," Kashanchi said. "We want to make (a calendar) that is beneficial for the entire student body. It will allow students to go online and enter information for an upcoming event. The event could then get approved and then posted to the university calendar."
According to Schofield, A.S. plans to take action to get more students informed about events occurring on campus. She plans to streamline communication with students by using Facebook, e-mail and newsletters.