Students choose opener for GreenFest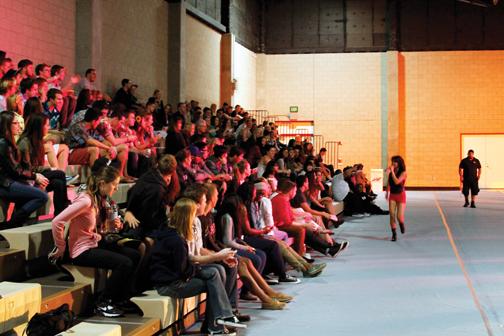 Brightside Radio hosted San Diego State's GreenFest Artist Showcase on Saturday to determine the opening act for the GreenFest concert next month. A wide variety of different student performers, ranging from hip-hop to DJ electronic-house music, competed against each other to win votes from spectators. The winner was determined solely by the audience.  Each person in attendance could text in their vote for a chance to see their favorite artist perform alongside the headliner of this year's concert, Macklemore and Ryan Lewis.
Of the five artists that performed on Saturday, the top two performers were acoustic music duo Brandon Pierce and Ryan Smith and pop singer Julianne Manalo. Ultimately, Pierce and Smith were announced the first place winners and will be the opening act for the GreenFest concert this March.
"I know, for both of us, this is one of the bigger things that has happened in our lives," Pierce said.  "It's really a dream come true to be performing on stage and to be the opening act for Macklemore."
Other performers included last year's GreenFest student hip-hop and rap group, Sincere Entertainment. Sincere opened for the 2012 GreenFest headliner T-Pain, although, this year, the group came in third place at the showcase.
"We hip-hop artists and I feel like that's disappearing these days. We just trying to bring it back," founder of Sincere Carl Sharpe said.
All of the contestants from the showcase were awarded with free studio recording time courtesy of Hindsight Rehearsal Studios.
GreenFest is a four-day event promoting sustainability through social, cultural and educational campus community events. Organized by Associated Students, Cultural Arts and Special Events board and Green Love, GreenFest was organized to bring environmental awareness to the SDSU student population and the local San Diego community. This year's events will include a Know Your Food Campaign, Enviro-Fashion Show and Zero-Waste Events among others. According to the GreenFest website, four key terms are used to describe this year's events: fun, education, Aztec pride and sustainability.
A.S. Vice President of University Affairs Matt Cecil, A.S. Executive Vice President and co-chair  of the festival Chanelle McNutt, said they are excited for all the GreenFest events and to help promote a more sustainable campus.
"I think what I'm really looking forward to is celebrating Aztec pride and sustainability while really creating a campus culture that really unites together," Cecil said.
GreenFest will begin at 10 a.m. on March 18 with a Bike Brunch at the south end of Campanile Walkway. For more information about GreenFest, visit as.sdsu.edu/greenfest.com