Aztecs talk new film and education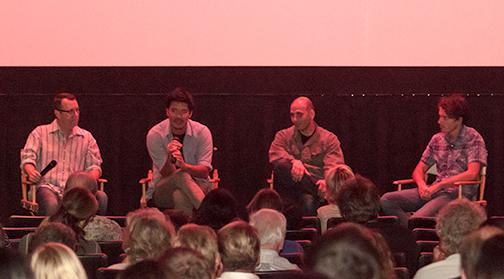 Filmmaker and San Diego State alumnus Destin Cretton is getting a lot of attention for his new award-winning movie, "Short Term 12." Cretton, in addition to SDSU alumnus and producer Ron Najor, were at Hotel Solamar to talk about the low-budget independent production.
In most cases, a person in Cretton's position would turn into an obnoxiously egotistical maniac, because of the amount of positive attention his second motion picture is receiving. Luckily, Cretton appears to be an unpretentious storyteller who genuinely enjoys making films.
An ironic fact about Cretton is that he wasn't always a student at SDSU.
"I went to State just for the master's program in television, film and new media. I was an undergraduate at Point Loma Nazarene University," Cretton said.
Though Cretton was not at SDSU for his whole college career, he does give the school credit for his success.
"I would not be making movies if it weren't for my experiences at SDSU. It was an incredible boost to my self-esteem. I think it was a place where I learned so much about myself and what my strengths and weaknesses were," Cretton said.
Like many classic auteurs, the spark for "Short Term 12" came from Cretton's real life.
"This feature was inspired by my first job out of college. This was before I came to SDSU. I worked at a group home for adolescent at-risk teenagers. It was a very difficult job for me, but also very rewarding. That experience just stuck with me all the way through film school," Cretton said.
Crestton's project stars some of the biggest names he has ever worked with, including Brie Larson and John Gallagher Jr., from "The Newsroom."
"We looked at a lot of the previous things that the two of them have done. That was the initial influence for going after them. An exciting aspect about Brie (Larson) is that she is very unpredictable. She always plays a very different type of character," he said
Despite casting some acclaimed actors, Cretton has no plans to collaborate with any famous celebrities, just for the sake of working with them.
"With certain actors, sometimes you hear horror stories and other times you hear about how nice they are. On "Short Term 12," it was amazing from top to bottom. Everybody was so nice to work with. All of them came just to be a part of the film" Najor added.
Najor suggested SDSU students "look at the people around you and realize that when working in any industry, those are the individuals that will be helping you out and getting you your jobs. Make sure that you build good relationships. Everybody we work with are our friends and recommendations from other buddies."
Cretton gave his own words of wisdom for college students.
"I wish when I was in college that more people would have encouraged me to be myself. It took me a long time to figure out that I'm OK the way I am. I can survive in this industry," Cretton said. "I can make movies without morphing into another type of person that is more outgoing, into networking or vocal. I found that whatever comes natural to you, just own it. None of this should be scary. Whatever you love doing, should just be natural and enjoyable."
Cretton hopes that Aztecs come out in force to view "Short Term 12."
I'm just excited for the SDSU community to come and watch the movie. I'm really excited to see what they think about it," he said.
Students won't have to wait much longer to check it out, because Cretton's acclaimed drama will be released Sept. 13.
Information about "Short Term 12" can be found at shortterm12.com.
Information about "Short Term 12" can be found at shortterm12.com. ALSO READ: Filmmaker Destin Cretton displays emotional power.