Aztecs campaign to rock the fight on hunger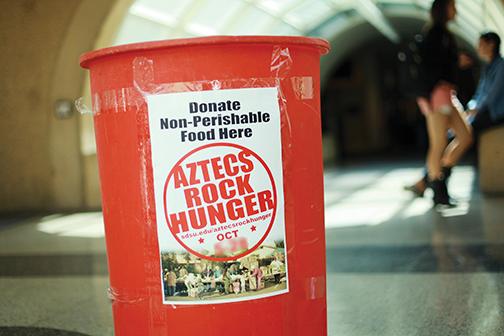 This year's Aztecs Rock Hunger food drive will begin on Oct. 3 and will run through Oct. 27.
In an effort to combat hunger in San Diego, Aztecs will compete against University of California, San Diego and California State University San Marcos to see who can contribute the largest amount of food to the Jacobs & Cushman San Diego Food Bank.
San Diego State's goal this year is to collect 150,000 pounds of food. This equates to about 30,000 meals for the elderly, working class, poor and veteran families of San Diego, Associated Students Vice President of Financial Affairs Mariah Kelly said.
Kelly said one of the biggest differences in this year's food drive will be the push to increase involvement for all Aztecs.
A.S. will be reaching out to large groups of students, including athletics teams, sports clubs, and residence halls, and others whom either have never participated or haven't participated in recent years. Kelly will oversee the university's involvement in this year's drive.
"By getting all Aztecs involved, we can build connections through a common goal and add one more amazing deed to our list of accomplishments," Kelly said.
Last year, SDSU raised 107,000 pounds during Aztecs Rock Hunger, which was nearly twice the amount of food raised in 2011.
According to Kelly, the university's contribution last year summed up to be roughly one-third of the food bank's annual goal. For every dollar donated this year, the Jacobs & Cushman San Diego Food Bank will be able to purchase six pounds of food for San Diego residents in need.
Speech, language and hearing sciences sophomore Anya Tugucheva said she is proud to attend a school that takes such commendable actions to help the community.
"It feels great to give back to the community and to know you are making someone's day or life so much better than it was just by giving back or donating," Tugucheva said.
Students will be able to actively participate in a variety of different ways, including donating and volunteering.
All students will have the opportunity to donate nonperishable food items at any red food bin on campus, as well as in all Aztec Markets. Students will also be able to make a financial contribution online via the "virtual food pantry." A $7 donation will provide 35 meals. For those with meal plans, leftover balance can be used to donate to the cause.
According to Kelly, students interested in getting more involved can contact the A.S. Government Affairs Office to sign up to volunteer for the campaign. Volunteers participate in collecting donations at home football games, tabling, making announcements and other activities.
A.S. Vice President of External Relations Javier Gomez said Aztecs Rock Hunger is one of his favorite events of the year. He plans on being actively involved in the drive by helping collect donations at football games as well as assisting with other efforts on campus. He is excited to see how much this year's students will come together to make a difference.
"Change can go so far," Gomez said. "Change makes change and any donation really does help."
For the first time, the winners of this year's competition will be invited to the annual announcement event held at the Hard Rock Cafe in Downtown San Diego. At the event, they will be publically recognized for their efforts in front of a crowd of city officials and media outlets, Kelly said.
Read about last year's Aztecs Rock Hunger.  
Photo by The Aztec staff.