New $14.5M basketball facility planned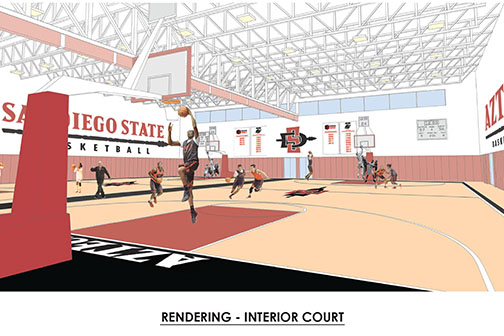 San Diego State announced last Tuesday its plan to build a $14.5 million practice facility for the men's and women's basketball programs.
"A general theme for the university is we want to build on areas of strength, and we've had extraordinary strength in our men's and women's basketball programs," SDSU President Elliot Hirshman said at the press conference. "So further investment is really merited."
More than half of the money for the privately-funded facility has been raised, including $8.1 million in commitments, according to U-T San Diego.
The two-level, 23,500-square-foot building will include two full-length basketball courts, eight baskets, locker rooms, team lounges, a film room and an athletic training room. Designed by JCJ Architecture, the facility will be built by Hunt Construction Group between the Parma Payne Goodall Alumni Center and the football practice fields.
SDSU Director of Intercollegiate Athletics Jim Sterk said at the conference that the concept and site study are completed. He said SDSU plans to seek design approval from California State University in January after schematic and construction documents are completed, break ground in the spring, and open the facility by August 2015.
"We will work very closely with the chancellor's office staff as we go through this process, and we anticipate a positive outcome," Hirshman said at the conference.
The facility has been a thought for men's basketball head coach Steve Fisher for more than 10 years.
"This is something that I know is important to our basketball program," Fisher said at the press conference.
The SDSU basketball teams currently practice at Peterson Gym and the Aztec Court at Viejas Arena when an event is not booked.
"Basketball does not take priority over other events," Viejas Arena Director John Kolek said, adding that basketball teams are only guaranteed the arena for basketball games.
Kolek said the arena accommodates about 90 to 100 events a year.
"There are basically not enough gyms on campus for 32,000 students and a couple nationally competitive basketball programs," Sterk said.
Fisher said at the conference that if they choose to, the teams could use different facility space at the same time as opposed to having an early slot and a late slot.
Aside from practice space, both men's and women's basketball coaches believe the facility will help with recruitments.
"To stay competitive in recruiting, we need something like this," women's basketball head coach Stacie Terry said. "It's a big selling point at other universities and now we'll be able to sell the same thing."
"It helped with this year's recruiting class," Fisher said. "We showed them where it was going to be."
Last year, the men's basketball team participated in its fourth consecutive NCAA tournament and the women's team won a program-record of 27 games.
 Courtesy of GoAztecs