SDSU Green Love puts pollution in the bag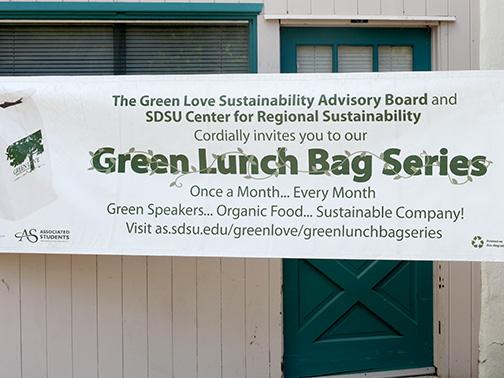 San Diego State's Green Love Initiative hosted the Green Lunch Bag Series event at Scripps Cottage on Wednesday.
The Green Lunch Bag Series is a series of events intended to inform the SDSU community about environmental issues. The focus of Wednesday's event was climate change and how it directly affects San Diegans.
Experts Eve Simmons and Janina Moretti from SanDiego350.org lectured about the impact of climate change both globally and locally.
Simmons began the lecture by streaming the "Do the Math" movie trailer, a film that illuminates the major impacts climate change has on the planet and the effects it will continue to have if changes aren't made.
"We're no longer at the point to stop global warming; too late for that. We're trying to stop it from becoming a complete and total calamity," author and environmentalist Bill McKibben said in the trailer.
During her lecture, Simmons demonstrated how the fossil fuel industry's removal of forests, which provide oxygen, has been correlated with the rise of carbon dioxide in the atmosphere to its current level of nearly 400 parts per million.
"Every day, 24/7, cars and trucks the size of this cottage are lifting up (the forest) which is our air supply, second only to the rain forest," Simmons said.
Simmons continued to demonstrate that simple substitutes such as LED light bulbs or reusable shopping bags are not only cost-effective, but also directly impact climate change.  Solar-powered energy is another improvement home and business owners can make to help decelerate climate change.
Simmons explained the world's population uses about 16 terawatts of energy per year. In the same amount of time the sun puts out 120,000 terawatts.
On a much smaller scale, Moretti's lecture concentrated on the impact climate change has had on the population of San Diego.
Aside from the record-breaking heat waves experienced in the city, a key issue San Diego is facing is water supply, Moretti said.
Moretti presented a study titled "San Diego's Changing Climate: A Regional Wake-Up Call," which demonstrates the impact that climate change will have on San Diego by 2050. Aside from the rise in sea levels, hotter and drier climates, and public health, the biggest concern is water supply because the majority of the city's supply is imported.
Economics senior and Green Love co-chair Rafael Guerrero expressed his position on local climate change.
"I am in this committee because I love San Diego," Guerrero said. "I was born and raised here so I feel that I am a product of my city."
As Simmons stated, it only takes one activist to make a change.
Anthropology sophomore Madeline Schillinger said the event presented interesting and relevant points.
"This event really opened my eyes to the serious consequences of climate change," Schillinger said. "It's of vital importance to raise awareness of this important issue. From now on I will strive to make better environmentally conscious decisions on a daily basis."
Photo by Wesley Beights, staff photographer.