Balboa Park brightens spirits with celebration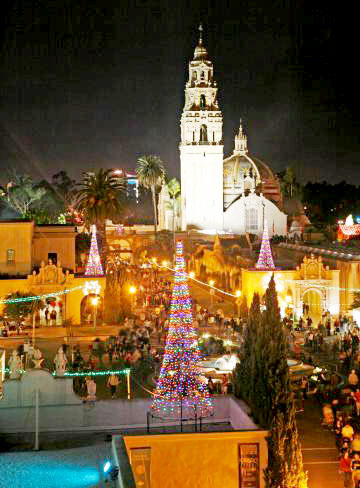 The holidays are approaching rapidly and what better way to kick-start the holiday spirit than to attend the 36 annual Balboa Park December Nights. The cheerful celebration will take place from 3 to 11 p.m. on Dec. 6 and noon to 11 p.m. on Dec. 7. Museums will offer free admission from 5 to 9 p.m. both evenings and the event will include a park full of sparkling lights, a variety of cultural music, dancers and carolers, as well as food throughout the park.
During December Nights the park is converted into a holiday escape where more than 350,000 guests are expected to attend, making the celebration the most anticipated free community event in San Diego. The festival will include several live performances on the Spreckels Organ Pavilion such as the production of Del Cerro Baptist Church "The Christmas Story Tree," the San Diego Sun Harbor Chorus, the House of Scotland Pipers and more. For those who have an interest in the arts, the San Diego Civic Dance Arts, Junior Theatre and Civic Youth Ballet will be hosting music and dance performances.
Because the event is catering to a variety of cultures, the food being served will be from all parts of the world. Some of the featured food will include egg rolls, empanadas, delicious fried plantains, baklava and many other options. After enjoying great food and music, attendees can enjoy a brilliant light show that will take place on the Botanical Building and the Lily Pond. In addition, there will be the lighting of the Moreton Bay Fig Tree. Guests who want to capture the moment can do so by taking holiday photos with Santa Claus and the Grinch from Dr. Seuss' "How the Grinch Stole Christmas!"
The event does expect a high volume of people, so public transportation is encouraged and a free shuttle will be provided at specific hours and locations.
Also read: Drive-in provides inexpensive entertainment for the whole family 
Photo courtesy of balboapark.org