Another winner from David O. Russell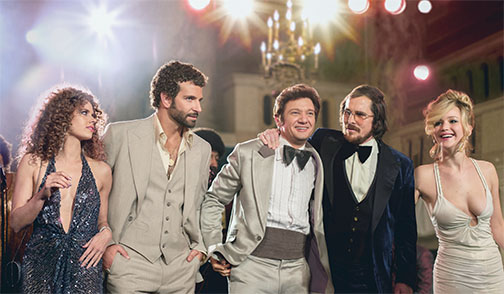 Embodying the true spirit of the 1970s, "American Hustle" is a smart, sexy and satisfying film coming out this Friday, Dec. 13. Following the brilliant con artists Irving Rosenfeld (Christian Bale) and Sydney Prosser (Amy Adams), they are forced to cooperate and work for an overzealous FBI agent, Richie DiMaso (Bradley Cooper). As Richie's ambition and ego grows, the duo's plans change drastically from catching small-time crooks to dealing with corrupt New Jersey politicians and power-hungry mafia members.
A refreshing take on the American dream, it's hard to know who's conning whom in "American Hustle." At the center of the film is New Jersey Mayor Carmine Polito (Jeremy Renner) and his plans to improving the state of his small city. A man of the people, Carmine has the people's best interests in mind when he goes about funding a casino that would rejuvenate the area, socially and economically. Though his heart is in the right place, Carmine makes deals with the wrong types of people, placing him between the feds and the mob.
Fresh off of last years sleeper hit, "Silver Linings Playbook," director David O. Russell teams up with Cooper and Jennifer Lawrence for their second movie together. Alongside an amazing cast with a few fun guest appearances thrown in, "American Hustle" has the star power, sass and smarts to get several Academy Award nominations. Fans of "Silver Linings Playbook's" raw emotion and true-to-life nature are sure to love "American Hustle."
Russell has a way of getting the most unendingly authentic and real performances from his casts. It's one of the many elements that makes "American Hustle" so entertaining and engaging to watch. Adams and Lawrence steal the movie, decked out in sultry 70s couture, and their performances are just as satisfying. While the girls have their dresses, the guys have their one-of-a-kind hairstyles. Whether it's Bale's comb-over toupee combo, Cooper's Jheri curls or Renner's pompadour, this immersion into the 1970s is refreshing, and the transformation's you see on screen pulls you into the world of "American Hustle."
Dominating the screen is Lawrence's performance as Irving's neglected, outlandish stay-at-home wife, Rosalyn. A fan favorite in flicks, such as the "The Hunger Games" series and "X-Men: First Class," Lawrence's portrayal of Rosalyn is both addicting and frustrating. Her character's brash, senseless and unapologetic attention-craving nature has major consequences. Though the whole cast delivers  spectacular performances, there has been much buzz already for Lawrence and the story as a whole. As a huge J-Law fan, I was amazed at how she masterfully turned the tables on her persona and how irritated Rosalyn's character made me.
"American Hustle" mixes the style, sensuality and passion of the 1970s for an engaging, raw and clever drama about people who made it big during the time, and the lengths they would go to get what they wanted.
Also read: 'Assassin's Creed IV: Black Flag' is a mixed treasure bag
Photo courtesy of Francois Duhamel