Search for SDSU provost still ongoing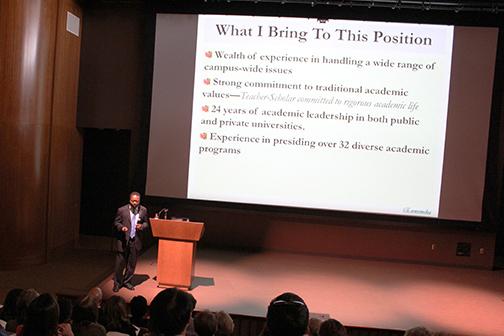 San Diego State hosted another open forum for candidates for the college's next provost. On Tuesday, March 18, Dean of the University of Wisconsin's College of Health Sciences, Chukuka Enwemeka presented his plans in case he is chosen for the position.
Enwemeka received his bachelor's degree from the University of Ibadan, his master's from the University of Southern California and his doctorate from New York University.
With over 20 years of experience working in academia, Enwemeka has been the dean at UWM, The New York Institute of Technology and The University of New York  at Old Westbury.
Enwemeka said the provost should serve as two major functions, as chief academic advisor and chief operating advisor.
"Most importantly, the provost serves as an advocate for students," Enwemeka said.  "I want to ensure students have a good and rich experience in their quest for knowledge."
He said the provost has a duty to recruit and oversee the professional development of faculty and staff of the university.
"The ladder to economic success and development is broken, provost have to engage to help fix this ladder, so that the path way to develop the community for the next generation is repaired and has access," Enwemeka said.
The provost also deals with other challenges, such as cultural diversity, plagiarism, drug abuse and privacy and must work with the university to fix these issues, Enwemecka said.
He became interested in working with SDSU after seeing the school's rise through the California State University system.
Enwemeka said his background in strategic, academic and research planning along with budgeting and financial recourse and allocation would allow him to bring SDSU to new academic heights.
"I have this ability to solve difficult problems, University of Kansas staff and faculty referred to me as 'prophet' because I can tell them the direction they are going ahead of time and offer solutions to fix it," Enwemeka said.
He said above everything, he believes in getting the job done and achieving the impossible.
"Strong dedication to living a legacy: it's all about the footprints you leave behind—ones that come and wash away, or ones that will remain in the minds of others and touch people dearly and they remember you for the rest for their lives. To me that is what this is all about," Enwemeka said.
Photo by Jordan Owen, Senior Staff Photographer