Aztec Shops director named NACS president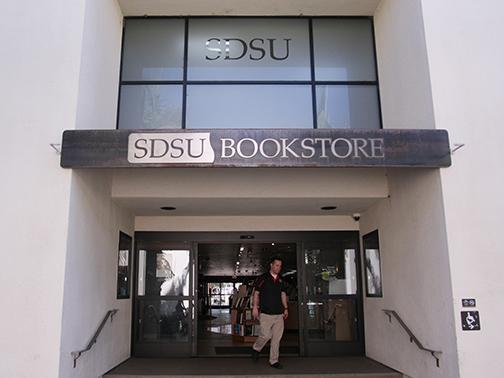 Aztec Shops Campus Stores Division Director Todd Summer was sworn in as the 86th president of the Board of Trustees for the National Association of College Stores at the Campus Marketplace Expo in Dallas earlier this month.
The NACS is a professional trade association representing the nation's collegiate retail industry, according to the official press release.
"My swearing in was very heartfelt as my parents and brother sort of roasted me for a couple minutes and then asked me to take my oath," Summer said regarding his March 8 nomination. "There were also some Shops staff there and they acted like 'The Show' in the audience."
The president, an unpaid volunteer position, is elected annually by members of the trade association, NACS Vice President of Communications and Public Relations Elizabeth McIntyre said. Votes are then systemized by an outside auditor, McIntyre said.
After serving a three-year term on the board of trustees, anyone can be eligible to become president. Upon meeting that criteria, the candidate can either nominate themselves or be nominated. The elected president then serves a one-year term, according to McIntyre.
"I can't speak for the membership as to why (Summer) was chosen, but I can tell you that (he) is recognized in the association for his creativity, ingenuity, and problem-solving abilities," McIntyre said.
Summer, who earned his degree in management from Boston University, said he has been working in retail since high school.
Aside from his experience in retail, Summer said volunteer work, both in the industry and for NACS, has prepared him for his duties as president. In the past three years, he has been serving on numerous NACS subsidiary boards, leading up to his presidency, Summer said.
"These subsidiaries provide book and other product distribution for the college store industry and others, buying group services, shipping programs for the college store industry and other industries, and a fundraising arm for research and education," Summer said.
Although his past experiences in retail and volunteering have prepared Summer for his presidency, he said that there are a few differences in the position he holds now at Aztec Shops and the NACS board.
As a director at Aztec Shops, Summer handles day-to-day operations such as ensuring that university operations are self-sustaining. Whereas at the NACS, the "board is responsible for ensuring the association and the subsidiaries are being run well and supporting the needs of the membership," Summer said.
Even with his newly appointed position, Summer said his main responsibility will always be San Diego State.
"My primary responsibility is and always will be SDSU," Summer said. "After my installation in Dallas, I flew home on March 11, quickly did some laundry, and drove to Vegas for our men's basketball tournament. Unfortunately, I missed the two games our women played in."
Photo By Monica Linzmeier, Photo Editor