Graduate student debt is on the rise according to study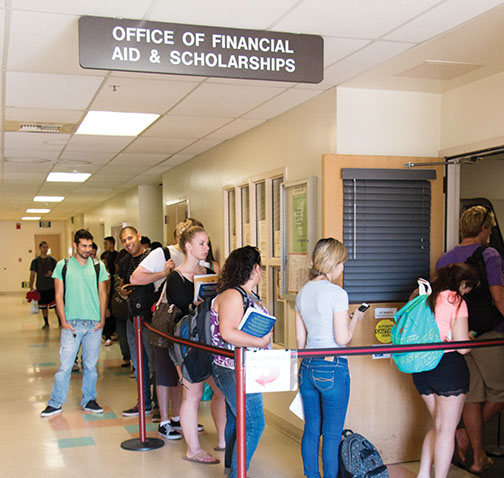 San Diego State is planning on expanding graduate programs, but a new study suggests that this could create more debt for students.
A recently-conducted New America Foundation study found that the most dramatic increases in student debt between 2008 and 2012 were incurred by graduate students pursuing master's or professional degrees.
School of Communication graduate student Marquesa Cook-Whearty voiced her concern on the increased levels of student debt.
"I contend that tuition and college debt is our next big financial bubble" Cook-Whearty said. "I think we are going to have another financial crisis on our hands due to college tuition."
Assistant Dean of Graduate and Research Affairs Edmund Balsdon said SDSU's Campaign for Success will continue to garner support from donors and alumni to raise money for developing graduate programs. Balsdon referred to the Student Success Fee, which will apply to graduate and undergraduate students.
"The Student Success Fee will raise the overall cost of graduate education at SDSU on the same schedule that it does for undergraduates," Balsdon said. "SDSU will remain very low cost when compared to options for graduate study at other universities."
Balsdon said the graduate division plans on increasing the availability of loans, grants and merit based scholarships to graduate students as well.
Some students in masters programs are able to work as graduate teaching assistants for professors. Brianna Quintero works as a GTA while pursuing her master's in communication. She said graduate students are at an even greater risk than undergraduate students from incurring large amounts of debt.
"Many of my peers rely on loans and are not making enough with their employment as a GTA to cover costs," Quintero said.
Quintero said the only loans available for students pursuing a graduate degree are unsubsidized, which means interest begins to accumulate before students have earned their degree. With demanding academic expectations, it may be difficult for graduate students to maintain employment, she said.
SDSU Office of Financial Aid and Scholarships Associate Director Chris Collins said undergraduate students have increased access to financial aid, such as the Pell Grant.
Collins said graduate students receive various fee waivers, stipends, fellowships and assistantships that are not available to undergrads.
Photo by Megan Wood, Staff Photographer