Surf exhibit cruises to Balboa Park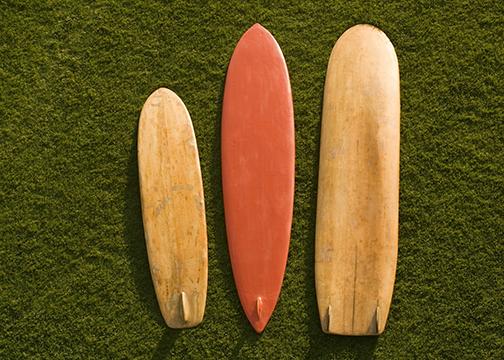 In conjunction with the first official day of summer on June 21, the Mingei International Museum in Balboa Park recently opened up the new exhibit "Surf Craft." The gallery covers the art and history behind the beloved West Coast craft: the surfboard. Not only does it showcase the evolution of the physical boards over time but also the surrounding culture that shaped the craft throughout its history.
"Surf Craft" begins with the oldest surfboard in the collection when the sport was a traditional leisure activity. The first surfboards look literally carved out of a random bark of a fallen tree. Soon users began picking up larger wood and smoothing them out, resembling a long tabletop. Still at this point, the boards are more like fine redwood planks than anything like the rides today.
Information about the figures behind each innovation is featured with each section. Arguably the most important innovator of the modern day surfboard is Bob Simmons. He picked up surfing initially for rehabilitation after a heavy accident, and he began to apply his engineering knowledge to improve the surfboard's shape. The result is the style he calls the "hydrodynamic planing hull," which incorporates fins and a torpedo-like design to better the physics of the surfboard.
A great surfboard offshoot covered in the exhibit is the beginning of the boogie board. Before, it was a traditional wooden belly board, but surfer and shaper Tom Morey decided to create one out of foam for beginners to ride and learn. The board entered the commercial market for novice surf enthusiasts, and the rest is history.
Like Morey, many shapers, then and now, experiment with the shapes and technology to create new surfboards. The "fish" shape may be the most familiar with its fin-like tail carved out at the tail instead of a flat bottom. The exhibit also featured experimental surfboards with asymmetrical fins on each side of the board. Surfboards undergo many diverse forms by innovative shapers still to this day.
By following the changes in the boards, viewers can learn a lot from "Surf Craft." The engineering history, growth of surf culture and pursuit for innovation by individuals are some important things to take in from the walk around the room. Even those who only watch surfing while on a stroll at the beach should at least find an interesting perspective of a familiar Southern Californian pastime.