SDSU continues ranking climb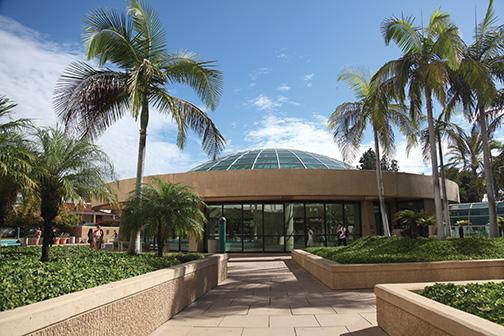 San Diego State has received the No. 149 spot in the U.S. News & World Report's ranking of national universities, moving up three spots from its No. 152 ranking last year.
The annual report also positioned SDSU among the top public schools at No. 78, up three spots from last year's list.
Ranked among national programs of its kind, SDSU's Rehabilitation Counseling program ranked No. 9
"We're very pleased to continue to be ranked in top 10," Chair of the Department of Administration, Rehabilitation and Postsecondary Education Caren Sax said.
She added that the Council on Rehabilitation Education has awarded the Rehabilitation Counseling another eight years of accreditation, which is the maximum number of years awarded.
"I've heard from those that employ our graduates that they know our graduates come to them with a solid foundation in the field," Sax said. "They have the knowledge, skills, and most importantly, the professional ethics and behavior to successfully work in partnership with individuals with disabilities in helping them obtain gainful employment."
Meanwhile, SDSU's International Business program ranked No. 10 among other similar programs in the country.
"It's a recognition of our unique and creative degree that places equal emphasis on business acumen and linguistic and cultural expertise," Director of International Business Ramona Perez said. "I think that if any degree program on campus represents the SDSU mission, it is International Business."
Perez said international business students are required to learn a foreign language to a level of fluency, study abroad for at least a semester and complete an internship that allows them to practice their foreign language.
"By the time our students walk out the door with their degree, they have lived and worked as a global citizen, not just studied it from the comforts of a classroom," she said.
Other rankings
Several of SDSU's graduate programs were among the top 50: Speech Language Pathology, at No. 25; Clinical Psychology, at No. 26; Audiology, at No. 27; Nursing Midwifery, at No. 29; and Public Health, at No. 30.
Graduate programs positioned among the top 100 include psychology, health care management, social work, fine arts, public affairs, education, business and mechanical engineering.
Valued SDSU undergraduate programs include business and engineering, ranked at No. 73 and 91, respectively.
U.S. News & World Report also placed SDSU among top 20 universities in the nation for ethnic diversity, and named the university a top 20 school for students graduating with the least amount of debt.
New data included
U.S. News & World Report published campus crime, such as criminal offenses on campus, and safety information pertaining to individual universities for the first time this year. The information, which most colleges are required to report annually, was not factored into the rankings, but is available on each school's profile page in an effort to make it more accessible to parents and students, according to a U.S. News & World Report press release.
Three-year federal loan default rates are included also for the first time on a university's profile page. This information can be used to understand how a school's recent graduates have been affected by loan payments, according to the U.S. News & World press release.