SDSU creates Aztec for Life Toolkit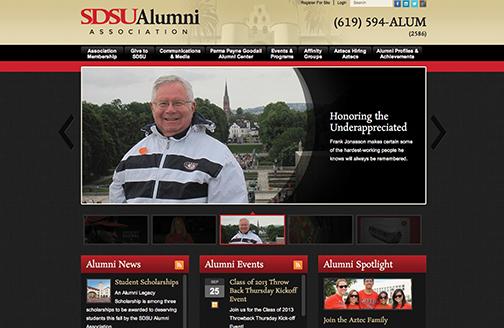 by Quinn Owen, Senior Staff Writer
September 22, 2014
The San Diego State Alumni Association has developed a new resource to explain that strong alumni relations are beneficial for all Aztecs.
The new web-based resource guide is called the Aztec for Life ToolKit. It combines career services information, alumni engagement data as well as financial and budgetary breakdowns. The web page is intended to be a resource for faculty to reference when explaining to students the importance of maintaining a strong relationship with the university after graduation.
SDSU Assistant Vice President of Alumni Engagement, Jim Herrick, describes the site as, "an optional resource for faculty who recognize the value of promoting the 'Aztec for Life' concept."
Herrick said the university is in need of more alumni involvement. Compared to other universities of our size, he said, SDSU lacks alumni support.
While it might seem like just a cheesy catchphrase, the concept behind "Aztec for Life" has substantial implications. If more students maintain a relationship with the university after graduation, SDSU's national ranking may improve, Herrick said.
According to US News and World Report, the amount of alumni support a university gets is a 5 percent factor in drafting its annual university rankings.
This year, SDSU was ranked No. 149 in the U.S. News and World Report's national evaluation of top universities and No. 78 among top public universities. The SDSU International Business program ranked No. 10 among similar programs in the country and Rehabilitation Counseling ranked No. 9.
While rankings such as these do not define a university entirely, the value of a diploma is based on the university's reputation and rank to some degree, Herrick said.
Business administration sophomore Royce Kilby said he plans on supporting SDSU after he graduates.
"If I'm making good money after I graduate I can definitely see myself donating to the university that helped me get my job," Kilby said.
This new online resource also serves as a center for information on career services. Links to information on mentorships, internships and job listings are provided. According to the website, 35,000 SDSU students will be registered with Career Services in 2014.
The core goal of this new development by the Alumni Association is to strengthen the bond between Aztecs of the past and present, Herrick said.
"We're doing this because having more alumni participation makes our school stronger," he said.