Faculty, CSU to settle new contract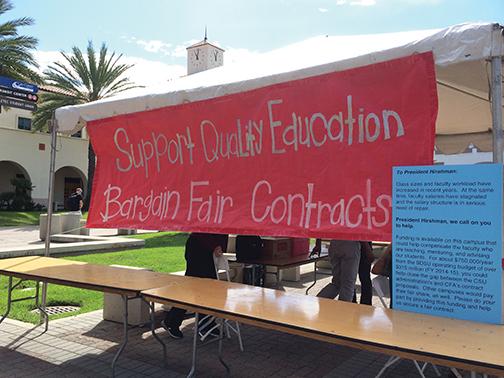 The California State University and the California Faculty Association have made a tentative agreement on a new contract. The CSU and CFA will vote to ratify the agreement online beginning at 9 a.m. on Nov. 1. Voting will close at 5 p.m. on Nov. 9.
The new contract will include a general pay raise of 1.6 percent for all faculty and 3 percent for faculty who are below the Service Salary Increase. Those below the SSI will receive a 4.6 percent total increase in salary. The SSI is a salary increase available to eligible employees on their yearly anniversaries. Some SDSU faculty have not been receiving a pay raise. Religious Studies department lecturer Pam Fox recently told The Daily Aztec she has not had a pay raise in 10 years.
In a press release, CSU Chancellor Timothy P. White praised the new agreement.
"The multi-year agreement is a tremendous accomplishment, as well as a special opportunity for CFA and the CSU to continue to strengthen communication and collaboration as we work together to advance the mission of the university," White said.  "As we approach the next year with limited resources and increased expectations at state and federal levels for increased outcomes, we have this agreement as the foundation on which to build a bright future for our students who deserve the highest quality education programs in the state."
SDSU faculty held a closed-door meeting Tuesday, Oct. 28 and were briefed on the new contract. Charles Toombs, president of the CFA San Diego chapter at SDSU, and associate professor with the department of Africana Studies, said approximately 40 faculty came to the briefing.
"There are a lot of positives that relate to other things other than salary," Toombs said. "The contract addresses workload, intellectual property rights, contributions to pensions and health plans."
Toombs said the contract also addresses misclassification of faculty which will improve pay for some. Misclassification refers to faculty being  in the wrong teaching category, such as a lecturer receiving a professor's rank.
If the contract is approved,  it will be a three-year contract. Further discussion for pay raises in the second and third year of the contract will begin May 2015, according to the CFA's website.
Earlier this month, faculty gathered and protested at President Hirshman's office asking for support of a new contract. President Elliot Hirshman's office chose not to comment on the meeting held with faculty that came that day.
"President Hirshman warmly received us, listened to our concerns with salary and workload, and expressed his understanding that these were important issues for us," Toombs said in an earlier interview with The Daily Aztec.