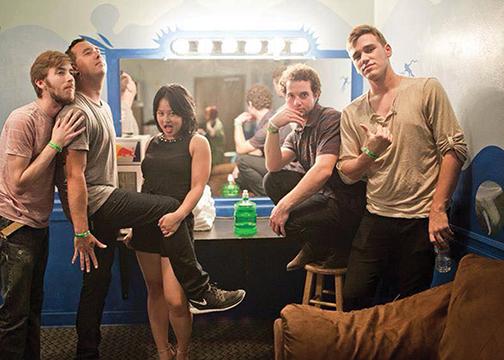 San Diego-based indie rock band Rylin draws influence from dreamy, whimsical movie soundtracks like "Big Fish" and "Charlie and The Chocolate Factory," as well as the Icelandic band "Sigor Ros," according to the band's guitarist Kevin Corcoran.
Rylin released their first self-titled full-length album last August, which featured their single "Taming Giants," as well as a "The Winter Mini album" that was released on March 20, and included their most recent single "Breath."
"Taming Giants" is a symbolic song about a boy who, well, tames giants. When Corcoran was a child, his dad's mantra was, "Don't tell me I can't," something that has stuck with him throughout his life and inspired him to write the song. The giants in the song represent the people who tell others they can't, while the boy represents those who don't listen and dream to their hearts' content.
"There have been people in my life who have told me that I dream too big and I need to ground myself more into reality," Corcoran said. "And I've never felt that way."
The music video for "Taming Giants" plays with light, darkness, slow motion and lots of color powder, emulating imagery from a popular event called the Color Run.
"Breath" is Rylin's other single, and it's Corcoran's favorite song.
"The lyrics talk about how we try so hard to become something so great and we try to find meaning in our lives," Corcoran said. "But the fact is, being alive is meaningful enough."
Although both his band's singles have inspiring and spiritual messages, Corcoran said that the music isn't really about the lyrics. The band intentionally chose a female vocalist to complement their intense sound and bridge the gap between a genre that evokes powerful emotions and a dreamlike daze simultaneously.
"We have this beautiful kind of chaos that meets in the middle," Corcoran said. "It just makes it perfect."
The band has four members, who are all San Diego locals. Luke Henning is the bassist, Corcoran is the guitarist, Raffy Sanchez is the drummer and Jezyle Deo Diz is the singer. Henning and Corcoran both attended SDSU.
The band is proud of the fact that they have produced these albums completely on their own, other than the album artwork, in Corcoran's home recording studio, and that they recently had a show at the House of Blues.
Corcoran said that Rylin is looking forward to play at the Rock'n'Roll Marathon in Del Mar in May, and would love to have the opportunity to play at the San Diego County Fair.
Until then, they'll continue writing new music and developing their skills together, something that Corcoran said they tend to be proactive about.
"We don't just sit around and dream," he said. "We dream and then do."
Their albums can be purchased on Amazon or listened to on YouTube. For more information, go like their page at facebook.com/musicbyrylin.