City, county honors KCR College Radio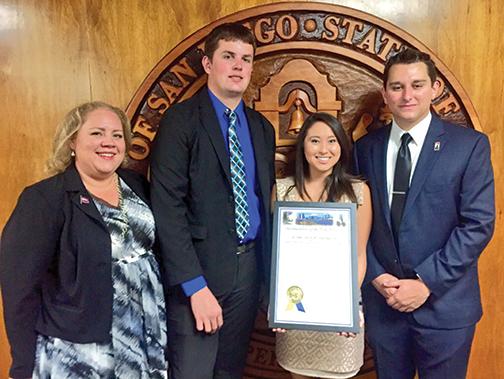 KCR College Radio, San Diego State's student-run radio station, received honorable recognition from the city of San Diego on Tuesday.
To commend the station's recent accomplishments, the city proclaimed April 28 KCR College Radio Day in San Diego.
Marti Emerald, city council president pro tem, presented the proclamation to KCR members at Tuesday's council meeting. She acknowledged the students' efforts to offer compelling content to SDSU and the San Diego community.
"It's one of those things you see other people get on TV, and to actually see KCR being recognized for all the hard work was really something special," Programming Director Matt Hoffman said.
Emerald spoke about the importance of KCR, noting that it provides students a voice and the opportunity to gain experience.
"Marti Emerald's speech to us felt so genuine and she really saw the value within KCR for students to learn through hands-on experience," KCR General Manager Olivia Hill said.
Councilmember Lorie Zapf, who recalled her experiences during her time as part of her college radio station, also left an impression on Hoffman and Hill.
Mayor Kevin Faulconer, who could not attend due to business in Sacramento, sent a staff representative in his place.
Hoffman said the mayor's liaison told them Faulconer would like to visit the station for an interview.
The radio station won Best Online Station at the Intercollegiate Broadcasting System Golden Microphone Awards in March.
About 20 staff members traveled to New York to attend the award ceremony, where they also won Best Campus News and Best Play-by-Pay sports coverage for their hockey broadcasts.
The radio station was a finalist for Best Play-by-Play: Baseball, Best Promotions Director and Best Production Designer.
The city's proclamation followed a similar honor from the county.
The County of San Diego proclaimed April 21 KCR College Radio Day.
County Supervisor Dianne Jacob presented the proclamation to the radio station during the Board of Supervisors meeting that day.
"KCR College Radio has really come up in the ranks, and to have two days dedicated to us from the city and county is something I never even imagined would happen — not because I didn't believe in us, but it just never crossed my mind," Hill said.
Matt Anderson, former KCR General Manager, said his experience with KCR helped him land a full-time job as a broadcast engineer at iHeartMedia, a mass media company with radio stations across the United States.
Anderson said despite scarce resources, including a lack of school funding, he is proud of what KCR has accomplished.