CSU increases executive pay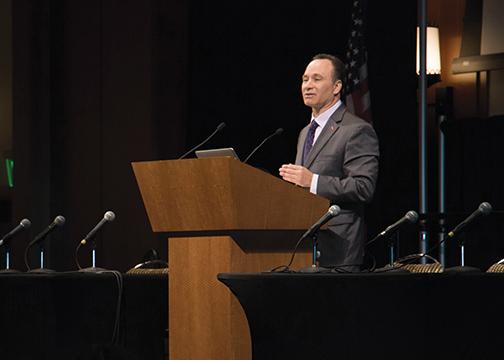 Salary negotiations between California State University management and the California Faculty Association came to a halt in late July.
On July 21, CSU trustees approved raises for all 23 university presidents including San Diego State President  Elliot Hirshman.
President Hirshman, who received a salary increase last fall that brought him to $412,000, is now in line to receive an additional $8,240 annually. His new salary would be $420,240, maintaining his status as the highest-paid CSU president. The July 20 – 21 agenda for the CSU Board of Trustees indicates a proposed 2 percent raise for all CSU campus presidents, with an average increase of $7,000.
On July 22, the California Faculty Association met with CSU management to continue negotiating faculty salaries. The CFA is asking for a 5 percent general salary increase, and a 2.65 percent Service Salary Increase for eligible faculty.
A post on the CFA's website regarding the meeting says:
"Despite CFA's willingness to negotiate and presenting management with data and stories of faculty hardships, virtually the first word from CSU management was 'no' to our proposal of a 5 percent General Salary Increase and a Service Salary Increase to eligible faculty. Both sides agreed that we are at impasse."
The CSU Labor Relations department also issued a statement explaining how they have made faculty wages a priority concern, "We have demonstrated our commitment to working on compensation issues by investing a significant percentage of all new state funding in our employees."
The CSU has spent $129.6 million in compensation over the past two years. Just more than half of that has gone to faculty.
Since 2004, the average pay for CSU presidents has increased by 44 percent. The average pay for faculty increased by 8 percent over the same period.
CSU Public Affairs Communications Specialist Stephanie Thara said CSU executives are paid below the standard compensation levels of other public university administrators.
"Executive compensation accounts for less than 1 percent, she said.  In fact, during the recession years, February 2008 and July 2013, faculty were the only employee group to receive general salary increases."
For some faculty, their SDSU salary is not enough to get by.
Associate Professor of Women's Studies and CFA member Doreen Mattingly said many faculty take on other jobs, such as lecturing at other schools or working as consultants.
"For some, to make ends meet, it means running between multiple campuses, teaching an enormously heavy load, she said. And then the students suffer."
Mattingly said that in her 20 years at SDSU, she's seen a structural shift where students are being treated as consumers.
"The university sees students as consumers, who they want to keep happy, and so the rigor of the education that you receive has been watered down dramatically." She continued, "Course size has doubled in the time I've been here. You can't give the same experience to a class of 80 people as you can to 40 people. There's just no way."
Mattingly said she feels disrespected and frustrated by the low salaries provided by the CSU schools. She says a pay raise would help increase morale among her colleagues.
Talks between CSU and CFA to resolve disputed wages will resume August 31.