Graduate students top charts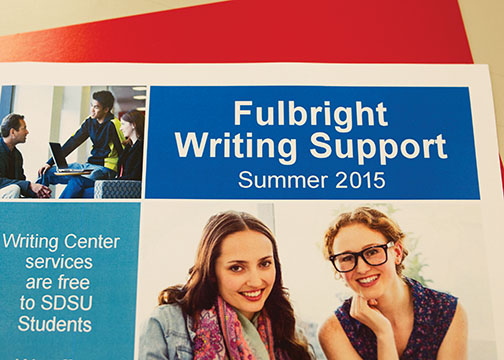 The class of San Diego State graduate students starting fall 2015 is among the most academically accomplished in SDSU history.
This year SDSU received three National Science Foundation Fellows, four international Fulbright Fellows, five campus Fulbright Fellows and 20 Presidential Graduate Research Fellows.
National Science Foundation Fellow and current graduate student Matthew Voigt said coming to SDSU was a strategic move for him.
"San Diego State is one of the strongest programs in terms of math education and specifically undergrad math education," Voigt said. "They have a really strong program, and it was just a very collaborative environment among the faculty. Accepting and diverse."
Voigt will be in a four-year Ph.D. program split between SDSU and UC San Diego.
He hopes to inspire undergraduates to engage in mathematics and to do research that will have an impact on the university.
His fellowship recognition came from a one­-unit grant writing class he took while earning his master's degree at the University of Minnesota. In the class, he submitted an application to a grant of his choice, which ended up being the National Science Foundation Fellowship.
The fellowship financially supports him for three years of his program, which he said allowed him to apply to his choice of schools.
"Our program is so specific that everyone has such an interest in it that they are committed and engaged and each person specializes in different branches, so everyone provides a different kind of richness," Voigt said.
Voigt is not the only graduate student looking to make a difference on campus.
First -year women's studies graduate student Marsela Rojas­-Salas wishes to be an advocate on campus.
One SDSU faculty member is inspiration behind her motivation.
"When it came down to researching women's studies master's programs, SDSU had an interdisciplinary approach along with an intersectional and transnational lens on feminism that I was immediately attracted to," Rojas­-Salas said. "When I further researched the faculty in the department, I discovered Dr. Irene Lara was a faculty member, which reinforced my need to apply to the program."
Rojas­-Salas networked with Lara at the National Association of Chicano/Chicana Studies Conference.
Lara was presenting the book she co­-edited with Elisa Facia, "Fleshing the Spirit: Spirituality and Activism in Chicana, Latina, and Indigenous Women's Lives."
Rojas-­Salas kept that book in her backpack at all times the last quarter of her senior year.
She used it as a source of self-care when she felt that academia was splitting her mind, body, and spirit, she said.
She is the first in her family to earn a master's degree in the U. S. However, she feels the pressures of not fitting in.
"As a graduate student of color, I often lack a sense of belonging when in academic settings,"she said. "Impostor syndrome, or the idea that someone will tell me that my acceptance letter was incorrectly sent to me, is something that is often in the back of my mind."
She said she knows it's a privilege to be at SDSU, and she feels it is her responsibility to increase accessibility to higher education for everyone, especially women of color.
Her first week of graduate school at SDSU is officially over, and she said she already knows that her cohort brings a diverse set of skills relating to feminism, anti­racism and queer antagonism to the Aztec community.