'Spaces from Yesterday' exhibit expresses memory and rehabilitation with art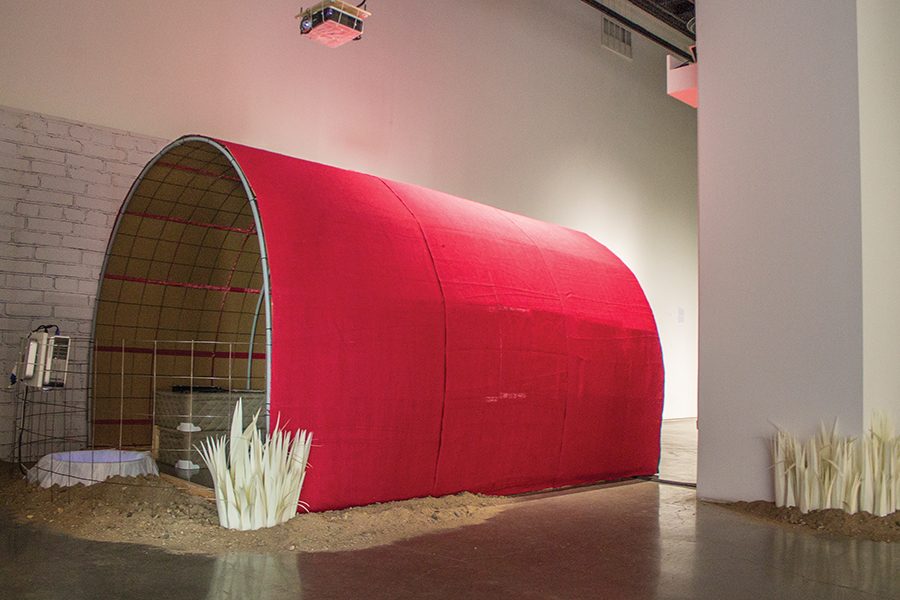 by Sydney Sweeney, Senior Staff Writer
December 6, 2017
Memories may be stored mentally, but they are rooted in physical, tangible pasts often worthy of reflection. And though it's common to reflect on one's own yesterday, the opportunity to hear and physically share someone else's nostalgic tales is far more unique.
In "Spaces from Yesterday," the latest exhibition running at the San Diego State Downtown Gallery, Oakland artist and art educator Amy M. Ho displays her capacity to not only listen attentively to the stories of her students, but also interpret those accounts with an abstract and powerfully illustrative eye.
The exhibition features three collaborative projects created by Ho, who teaches art at San Quentin State Prison, and incarcerated artists Chanthon Bun, Dennis Crookes and Bobby Dean Evans Jr.
The showcased works in "Spaces from Yesterday" are poised as installations and paintings of various scales that symbolize places significant to these inmates' lives before prison.
These visual manifestations are Ho's method of documenting and processing her students' stories in hopes that the project allows the men to share their own memories–from locations to associated experiences–with the world, she said.
"All of the works in this project have their start in storytelling and listening," Ho said about the concept behind the exhibition. "So many of the stories I hear felt special, and I soon began to feel like I was carrying all of them in my mind and heart everywhere I went. I wanted to record them in some way, and it made a lot of sense to (use) visual art."
Perhaps the most fascinating aspect of Ho's relationship with her students is the environment in which it fostered: an art classroom at San Quentin, which she recognizes to be an open studio where artists from different levels of expertise work in parallel. It was during these free-flowing classroom sessions that inmates like Bun, Crookes and Evans Jr. expressed their pre-incarceration recollections, and Ho found herself invested in their memoirs.
Similar to how the open studio atmosphere promotes a partnership between an individual student and teacher, Ho also said that she would work conjunctively with the collaborators of "Spaces from Yesterday" to accurately create the visual depictions of the sentimental spaces.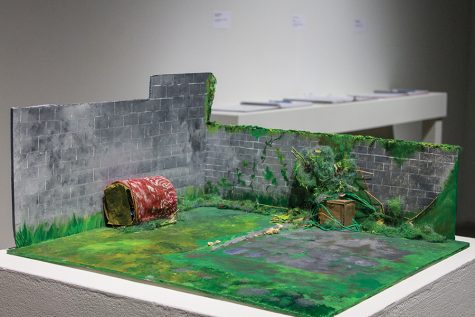 Along with exchanging ideas, she said she simultaneously envisioned the structures' appearances.
"As I'm hearing the stories, my imagination runs wild," she said. "Later in the studio, I create models and mockups of potential installations."
This dedication to respectfully detailing the inmates' remembrances won't come as shocking to those familiar with Ho. Indeed, "Spaces from Yesterday" aligns with the artist's interest in human rights reform.
"At one point I thought I would be a human rights activist," Ho said.
She said she deliberated how she could participate in prison reform as an artist. Hence, the Bay Area prison became her zone of activism and, eventually, inspiration.  
However, noteworthy is the idea that stories told in the San Quentin classroom–those of which now manifest as mixed media and wooden depictions here in San Diego – can serve to inspire more than Ho and the exhibition's audience. The places and things of the past can possibly spark motivation in the inmates, too, the curator of "Spaces from Yesterday," Professor Tina Yapelli, said.
"While the exhibition provides insight to the pre-incarceration lives of these individuals, the fact that one of the student-artists has since served his time and is now living and working outside the prison system also provides hope for the future of other inmates," Yapelli said.
That formerly incarcerated artist is Crookes, who now resides in Los Angeles.
As for enlightening the free public about prison reform, Yapelli believes the exhibit is powerful enough to raise awareness about the prison population and, more importantly, the potential for inmates to rehabilitate.
"('Spaces from Yesterday') shows that they aspire to a better life, they have this urge for creative expression," she said. "All of the works reference places that were important to these men before they were incarcerated. So, in many ways, it's about humanizing them and sharing these stories outside of the prison walls."
Ho said she admits that she doesn't expect a single art exhibition to entirely eradicate anyone's preconceived notions about those imprisoned.
She wants viewers to consider the idea of inmates as regular people, "like everyone else."
"I think the spaces depicted in the show reflect how everyone, inmate or free person, cherishes home and family," she said. "I see (the exhibition) as (a way of) planting a seed, and hopefully someday down the line, people can learn to extend compassion to those who need it most."
The projects of Bun, Crookes, Evans Jr. and Ho will be presented via two installations crafted by Ho and numerous paintings by the three student artists, along with a model of an additional installation.
"Spaces from Yesterday" and its compelling message has graced galleries in Northern California, but the SDSU Downtown Gallery is the first institution in the state's southern half to feature the exhibition. Yapelli said the gallery also makes for an interesting venue because of its relative location to the San Diego Central Courthouse and the San Diego County Jail.
"I think it's an ideal venue for this project that humanizes the inmates that are living in downtown San Diego in our prison system," she said.
In this sense, Ho's exhibition touches base with both social and local issues. And aside from raising cognizance about prison reform and the normality of those incarcerated, Ho said she hopes that each person leaves the show with their own, new remembrances.
"I hope that in each person's memories of the installations lie (the men's) stories and experiences," she said. "I like the idea that through those memories, (the artists), the viewer and myself all become linked forever."
"Spaces from Yesterday" is free to the public and showing until Jan. 28, 2018. The SDSU Downtown Gallery is open Thursday through Monday, 11:00 a.m. to 4:00 p.m.