San Diego State students take part in national school walkout
David Santillan, Stephan Early, Mirella Lopez, Bella Ross
Dozens of students headed to the North Library Walkway at 10 a.m. Wednesday to commemorate the lives lost in the high school shooting in Parkland, Fla., as part of a national school walkout.
Students gathered in silence for 17 minutes and gazed at 17 people standing side-by-side holding up the names and ages of those who passed in Parkland. Some of the victims were as young as 14, others as old as 49.
"If you could line them all up, that's how many people lost their lives," said management sophomore and walkout organizer Jack Dentzman. "I think that just really puts things into perspective. Once you see it in front of you it makes more of an impact."
The walkout occurred as part of a national movement pushed by survivors of last month's shooting at Marjory Stoneman Douglas High School. Students from thousands of schools and universities participated in walkouts to communicate their desire for legislative action to prevent gun violence.
Dentzman said he wanted to prevent the walkout from becoming too politically charged to ensure nobody was excluded from the conversation based on their views.
"I didn't want it to be a rally," Dentzman said. "I wanted it to be more of an educational opportunity for students to get registered to vote and send a letter to their representatives."
Social work junior LiLi Mooneyham was present at the walkout and said she had lost a friend in the Columbine High School shooting in 1999. This, she said, made the walkout especially important to her.
"She was murdered," Mooneyham said, "and it was really difficult to deal with because she was here one day and then she was gone the next. I was almost 18 and even though it was about 20 years (ago), it still impacts me to this day."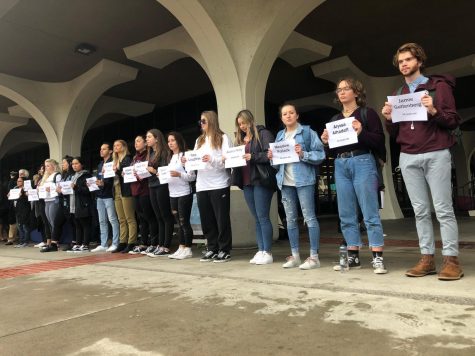 With the current climate surrounding gun violence in the U.S., Mooneyham said she is hopeful that events like this will help voices be heard, especially those of children.
"We need to listen to the children because the children are our future," Mooneyham said.
One of the 17 students holding names of victims was philosophy junior Francisco Martinez. He said he felt that this demonstration added an aspect of humanity into the conversation about gun violence, which he said has been highly politicized.
"I'd really like to remind people that these are human beings and they are individuals who had dreams and aspirations," Martinez said. "They had a favorite color, they had parents, they had siblings, they had friends, they felt emotional pain at some point and they could have been you when you were younger."
Dentzman said he had assistance from San Diegans for Gun Violence Prevention, a local advocacy group, in funding and organizing the walkout. Carol Landale, president of the San Diego chapter of the Brady Campaign, a group that has recently paired with San Diegans for Gun Violence Prevention, said she hopes students now have a sense that they can create change.
"People say there's nothing they can do," Landale said. "We're here to educate people and say there is something that you can do."